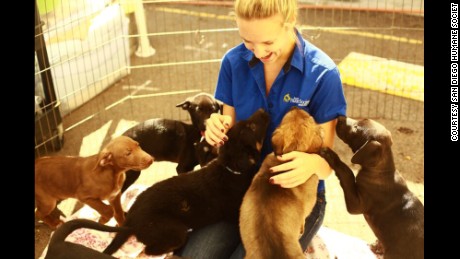 (CNN)For the past five years, my number has been listed on an eating disorder help hotline, the same hotline I called years earlier when my boyfriend, who found me hunched over the toilet and rocking back and forth on my knees, said he couldn't be with me anymore. I was desperate and hopeless and out of options, but somehow, I made it through.
Every few months, I'll get a call from a person, usually a woman, who believes she can't go on. Sometimes she is calling from the bathroom floor, or from the bed she can't bring herself to get out of, or from her car after devouring a few super-size meals.
By the time she's dialed my number, she has tried therapy and devoured and puked up every self-help book she could get her hands on. Maybe she's tried Weight Watchers, gastric bypass, personal training, a lap-band, too many diets to name. She might have an encyclopedic knowledge of nutrition and how to recover from an eating disorder, but she can't apply what she knows to be true.
When every molecule of my being wanted to numb out and run away, she'd help me to feel and stay. With a creature who knew no other way of being than in the here and now, I could drop my methods of self-protection and let my tender, real, vulnerable self be seen. The anxious and broken person who walked into the kennel faded into the background, and in its place, there was simply an outpouring of love between a girl and a dog.
That love -- love the most desperate dogs showed me at my most desperate times -- is the reason I'm alive today and the reason why I continue to spend so much time at my local animal shelter. Though I no longer obsess about what to eat or how tight my pants are, I worry about the future. I worry about what people think of me. At
parties
or conferences or writing classes, I sometimes find myself wishing that a room full of people would turn into a room full of dogs.
I gave eight years of my life to bulimia. I threw up eight years of brain development and emotional maturity. And though I don't do that today, I'm still trying to feel comfortable in my own skin.
I still have a lot to learn. But one truth I know for sure is that the most important thing I can do with my life is give back to the shelter dogs who have done so much for me and to be there for another woman in her suffering. I may not be able to tell her exactly how or if she will get better. But I can listen to her struggles, about how she wishes she could lift her head from her stomach and her thighs and her scale, and see the world with fresh eyes.
And I can tell her that in addition to professional help, she might seek some soul medicine. Something in this world can bring her to the present moment, the only place where true healing can happen. Perhaps it will be music, or yoga, or poetry, or love in the form of a shelter dog.
Her sacred job -- her heart-work -- is to find it.
If you or someone you love is suffering from an eating disorder, visit the
National Eating Disorders Association or Recovery Warriors for resources and support.
Read more: http://www.cnn.com/2016/06/17/health/turning-points-shannon-kopp-bulimia/index.html