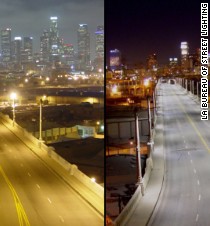 The American Medical Association (AMA) has just adopted an official policy statement about street lighting: cool it and dim it.
The statement, adopted unanimously at the AMA's annual meeting in Chicago on June 14, comes in response to the rise of new LED street lighting sweeping the country. An AMA committee issued guidelines on how communities can choose LED streetlights to "minimize potential harmful human health and environmental effects."
Municipalities are replacing existing streetlights with efficient and long-lasting LEDs to save money on energy and maintenance. Although the streetlights are delivering these benefits, the AMA's stance reflects how important proper design of new technologies is and the close connection between light and human health.
The AMA's statement recommends that outdoor lighting at night, particularly street lighting, should have a color temperature of no greater than 3000 Kelvin (K).
Color temperature
(CT) is a measure of the spectral content of light from a source; how much blue, green, yellow and red there is in it. A higher CT rating generally means greater blue content, and the whiter the light appears.
In the case of white LED light, it is estimated to be
five times more effective at suppressing melatonin
at night than the high pressure sodium lamps (given the same light output) which have been the mainstay of street lighting for decades. Melatonin suppression is a marker of circadian disruption, which includes disrupted sleep.
Bright electric lighting can also
adversely affect wildlife
by, for example, disturbing migratory patterns of birds and some aquatic animals which nest on shore.
Street lighting and human health
The AMA has made three recommendations in its new policy statement:
First, the AMA supports a "proper conversion to community based Light Emitting Diode (LED) lighting, which reduces energy consumption and decreases the use of fossil fuels."
Second, the AMA "encourage[s] minimizing and controlling blue-rich environmental lighting by using the lowest emission of blue light possible to reduce glare."
Third, the AMA "encourage[s] the use of 3000K or lower lighting for outdoor installations such as roadways. All LED lighting should be properly shielded to minimize glare and detrimental human and environmental effects, and consideration should be given to utilize the ability of LED lighting to be dimmed for off-peak time periods."
There is almost never a completely satisfactory solution to a complex problem. We must have lighting at night, not only in our homes and businesses, but also outdoors on our streets. The need for energy efficiency is serious, but so too is minimizing human risk from bad lighting, both due to glare and to circadian disruption. LED technology can optimize both when properly designed.
Read more: http://www.cnn.com/2016/06/21/health/led-streetlights-ama/index.html