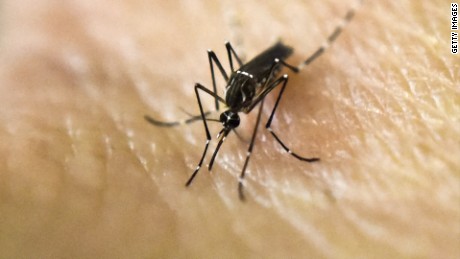 (CNN)The first human trial of a Zika vaccine will begin soon, Inovio Pharmaceuticals said Monday.
Inovio, which is based in Plymouth Meeting, Pennsylvania, and GeneOne Life Science, which is based in Seoul, South Korea, worked together on the vaccine. They previously collaborated to create vaccines
for Ebola
and
MERS
, both of which are being tested.
The Zika vaccine, with the clinical-sounding name GLS-5700, will first be tested in 40 healthy volunteers. The first tests in humans should start in the next few weeks, Inovio said in a news release.
The Zika virus, transmitted by the aggressive Aedes aegypti mosquito, has spread to at least 50 countries and territories.
The U.S. Centers for Disease Control and Prevention has warned pregnant women not to travel to those areas, and health leaders in those countries have advised women not to get pregnant. The virus is connected to a neurological birth disorder,
microcephaly.
In addition to avoiding travel to countries with the virus, the only other available protection is to use an
Environmental Protection Agency-approved mosquito repellent
. The CDC also said that wearing long pants and long-sleeve shirts thick enough to block a mosquito bite can help, as can sleeping in air-conditioned rooms with screens to keep bugs out.
Read more: http://www.cnn.com/2016/06/20/health/zika-vaccine-human-testing/index.html