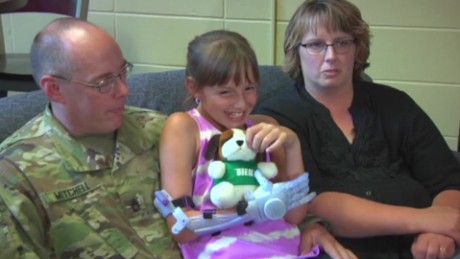 (CNN)All hail the ice queen! Nine-year-old Karissa Mitchell, born without a right hand and most of her wrist, was gifted with a "Frozen"-themed prosthetic arm last week.
The arm was put together by
Enabling the Future
, a national organization with a chapter at Siena College in Albany, New York. For its first project in 2015, the student-run
Siena e-NABLE
group created an Iron Man-themed hand that went to 5-year-old Jack Carder in Ohio.
Karissa's goal is to be able to write with her new hand. She'd like to be able to write her name with it.
The next project that the group plans to take on is building an arm for a girl named Veronica from Uganda. After an accident, she was forced to have her arm amputated past her elbow.
Anyone who is in need of an arm or hand is encouraged to contact
Siena e-NABLE
.
"It's so amazing to see college students take time from their studies and their social lives to do something like this for somebody else. It's heart-warming," Mitchell said.
Read more: http://www.cnn.com/2016/06/27/health/disney-princess-prosthetic-limb/index.html