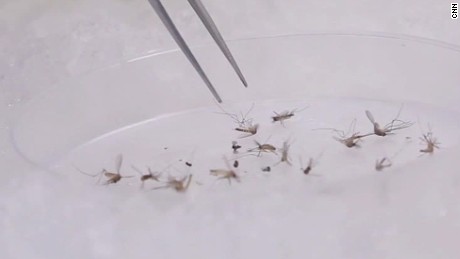 Rio de Janeiro (CNN)So it's final: the World Health Organization has confirmed that the 2016 Olympics do not need to be postponed or moved from Rio because there is a "very low risk" that the Games will further spread the Zika virus.
This is great news for athletes and potential visitors to the
first South
American Olympic Games, although the reality for residents is more nuanced, given the huge spike in Zika infections at the beginning of the year.
Olympics organizers and Brazilian officials have gone on the offensive over the past week to try to quell fears over the mosquito-borne disease, arguing that the Summer Games will take place in August, Brazil's winter, when the mosquitoes tend to die off.
"According to a study done by the University of Cambridge, of the 500,000 foreign tourists who will come, only one will get the Zika virus, so it's almost a zero risk," Brazilian Health Minister Ricardo Barros said last week.
"Every month we go and do an ultrasound, and it terrifies me that they will tell me my baby isn't developing or the baby's head isn't growing," she said.
Cristielle lives in the Vidigal favela, an increasingly popular tourist destination, with multiple hostels and even a boutique hotel overlooking Rio's white-sand beaches. She says many of her friends and neighbors did get Zika and points to a cement canal that runs right in front of her house.
"This is sewage, dirty water, and there are mosquito larvae there," she said. That means she closes herself inside her house until she has to go to work, and then she puts on long sleeves and lathers on the repellant.
"There have been cases of pregnant women who didn't know they'd had Zika and their babies were born with microcephaly. Just talking about it gives me the shivers," she said.
For residents in Rio, the fear is not only that the outbreak in the summer months will lead to a surge in birth defects but that when the Games are over and visitors are gone, they'll have to brace for another mosquito season.
Read more: http://www.cnn.com/2016/06/15/health/who-olympics-should-not-be-postponed/index.html