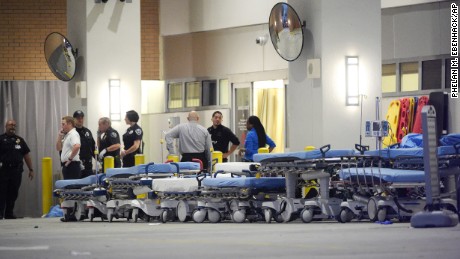 Orlando, Florida (CNN)The trauma surgeon on duty had just gone up to the call room, where he was hoping to catch some sleep, when his pager went off. One gunshot wound coming in turned into a few. Then 20. Then more.
This was no drill, Dr. Chadwick Smith realized, and he reached out for help.
As Dr. Michael Cheatham answered the call shortly after the first shots were fired early Sunday and headed to Orlando Regional Medical Center, driving his normal route, he came upon the "sea of blue lights" around the Pulse nightclub. Police had to tell him a back way to reach the hospital, which sits about three blocks away.
Other than the nine victims who died almost immediately, and were inoperable from the start, nobody else shot at Pulse has succumbed to their injuries at this Orlando hospital. In fact, Ibrahim shared that they are now moving patients out of ICU, decreasing medications and no longer giving anybody "massive amounts of blood."
There's an optimism to these surgeons, even if they haven't fully absorbed what they've been through.
"It will hit us a little bit later this week, I suspect," Cheatham said.
He said the three of them rely on their families and faith. And if that's not enough, Smith said, human resources at the hospital is offering up counseling. Every two hours in a conference room, there are sessions inviting people to talk to one another. And one-on-one meetings with counselors are available to those who need more.
But that business isn't top of mind for them right now.
"You don't have time to slow down," Ibrahim said. "We're so focused on making sure the patients are getting what they're needing, and we'll deal with the rest later."
Read more: http://www.cnn.com/2016/06/13/health/orlando-trauma-surgeons/index.html