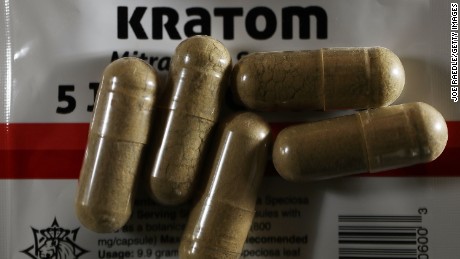 (CNN)Kratom is banned in six states. The Drug Enforcement Administration says there is "no legitimate medical use in the U.S." There are concerns that it could be addictive and have other risks that aren't well-known.
But the opioid-like substance is still sought out by users to boost energy and
manage
pain.
Overall, the effects of the plant aren't well understood. There have been a handful of reports of
seizures
related to kratom use. "It appears in certain individuals ... but it's clearly an uncommon event; otherwise, you would find a lot of reports of it. That's not being seen. It's very sporadic," Boyer said.
And while there have been several
deaths
related to kratom use, in all those cases, other drugs were also involved.
In addition, because of the loose regulation of kratom, it's hard to determine whether the supplement may have other additives that might contribute to its toxicity. As one study
cautioned
, "the protean blends of herbal products, and potential for contamination with synthetic chemicals, make the risk for opioid-related death a real and unpredictable possibility."
Banned in six states
According to the American Kratom Organization,
six states
have banned the supplement: Alabama, Arkansas, Indiana, Tennessee, Vermont and Wisconsin. New York has introduced legislation to ban it.
In addition, in 2014, the FDA issued an
import alert
that allowed U.S. customs agents to detain kratom without a physical examination. "We have identified kratom as a botanical substance that could pose a risk to public health and have the potential for abuse," said Melinda Plaisier, the FDA's associate commissioner for regulatory affairs.
But Boyer says there simply isn't enough known to draw any real conclusions about the drug.
"So, are they banning a substance that has potential clinical utility? Possibly. Are they banning a substance that has profound risk to people? Possibly. I think what I would prefer is to see somebody not ban it but at least do some research to see how bad the risk is or how good the benefit is."
Read more: http://www.cnn.com/2016/06/10/health/kratom-opioid-withdrawal-pain-relief-supplement/index.html