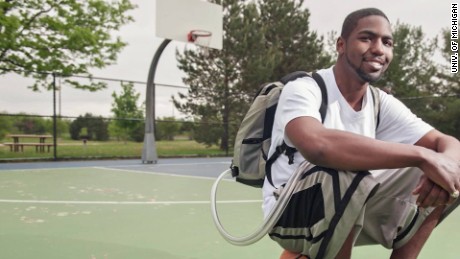 (CNN)While waiting for a human heart transplant, Stan Larkin lived 555 days without the organ at all.
To passers-by, the 25-year-old Ypsilanti, Michigan, resident appeared to be a typical young adult. He enjoyed taking his three toddlers to the park and hanging out with his younger brother, Dominique.
What wasn't obvious was that a gray backpack Larkin carried was what kept him alive. Inside that bag was the power source for an artificial heart pumping in his chest.
Larkin's real heart was removed from his body in November 2014. It was replaced with a device that allowed Larkin to stay home instead of in a hospital while waiting to receive a transplant.
The driver, which was carried in a backpack, not only powered the artificial heart, it delivered pumps of compressed air into the heart's ventricles, allowing blood to be pumped through the body.
"Stan was very active and did an immaculate job taking care of himself and taking care of the equipment used to keep him alive," Haft said.
"It's just like a real heart," Larkin said. "It's just in a bag with tubes coming out of you, but other than that, it feels like a real heart. ... It felt just like a backpack with books in it, like if you were going to school."
Voncile McCrae, Larkin's mother, often helped him change the bandages covering the holes in his body where the tubes emerged.
"We had to be careful so that he wouldn't get an infection," McCrae said, chuckling about how she had been scared to touch the tubes and handle the Freedom Driver machine. "Now, I'm a pro."
'An amazing brother'
The technology that, temporarily, was a part of Larkin's body shows just how advanced artificial heart devices have become since the world's first self-contained artificial heart was implanted in a patient in 2001, said Dr. Laman Gray, Jewish Hospital chair in cardiovascular surgery at the University of Louisville.
Gray was one of the celebrated surgeons who performed that first artificial heart procedure. He has closely followed developments in the fields of cardiac surgery, such as Larkin's case.
"I think there's good science here, and there have been really great advancements in this area," Gray said. "We're making great progress, and people are living normal lives. There's definitely a place for total artificial hearts and a need for them."
Dominique said he and his brother are grateful that their needs were met -- and that they survived.
"I have an amazing brother," Dominique said. "He has been here with me since the beginning and has never let me down. ... I'm blessed to have him in my life."
Read more: http://www.cnn.com/2016/06/10/health/artificial-heart-555-days-transplant/index.html