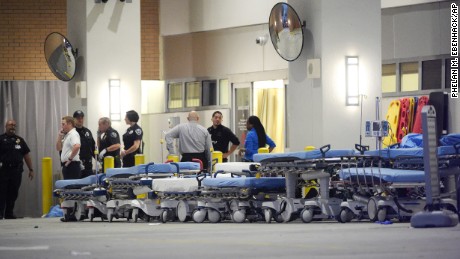 (CNN)In the aftermath of the deadly shooting at Pulse, an Orlando gay bar, family and friends of wounded victims sought all the information they could about their loved ones' health. But there was mass confusion around medical privacy and the Health Insurance Portability and Accountability Act of 1996, known as HIPAA.
Orlando Mayor Buddy Dyer said
Sunday
that he contacted the White House to "waive" HIPAA regulations so doctors could update shooting victims' loved ones about their conditions. Some
news outlets
even reported that
the waiver was an unusual step
for the federal government but important for gay rights.
However, according to the U.S. Department of Health and Human Services, there was no "waiver" after all. It wasn't needed.
However, Riley points out, because HIPAA breaches could result in serious penalties, many doctors might act cautiously and disclose information only to a patient's family member or legal spouse.
"Although there is now marriage equality in all states, many in the LGBT community may not be legally married and yet have been in very close and long-term relationships," Riley said. "But because they aren't legally recognized as family, they may not be treated as such. That means that they may not be given visitation rights or even information about how their loved one is -- even though they may in reality be much closer to the patient than family members who are given access."
Konnoth noted that such incidents sometimes could be a result of anti-LGBT prejudice. In 2008, Janice Langbehn's partner, Lisa Pond, suddenly collapsed in Miami and was admitted to Jackson Memorial Hospital, but Langbehn was
denied visitation and even updates
.
"Ms. Langbehn reported that a hospital worker told her that she was in an 'anti-gay city and state,' " said Konnoth, who studies medical privacy and LGBT issues. "Langbehn's story
led President Obama to issue a memorandum
to the Department of Health and Human Services to issue regulations prohibiting such anti-gay discrimination in 2010. This was one of the first gay-protective actions of his administration."
Read more: http://www.cnn.com/2016/06/14/health/hipaa-medical-privacy/index.html