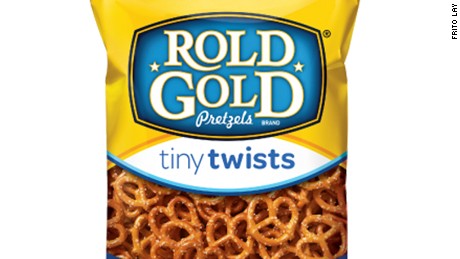 (CNN)Frito-Lay is voluntarily recalling some of its Rold Gold brand pretzels because they may contain peanut residue not identified on the label, the company said Tuesday. The recalled pretzels include Tiny Twists, Thins, Sticks and Honey Wheat Braided.
The recalled pretzels have a "guaranteed fresh" date between June 28 and August 23 of this year. They've been sold nationwide in stores, by food service suppliers and in vending machines.
This comes on the heels of a
Hostess Brands voluntary recall
last week of 71,000 cases of some of its snack cakes and doughnuts for the same reason. The recalled items include Ding Dongs and Zinger snacks. Also included are doughnuts such as crunch, chocolate, devil's food and powdered. The full list of recalled items can be found on the
FDA website
.
"While those who have an allergy or severe sensitivity to peanuts run the risk of serious or life-threatening allergic reaction if they consume products containing peanut allergens, the amount of peanut exposure from use of the flours and affected products is considered to be low and not expected to cause adverse health effects in the vast majority of peanut allergic consumers," Hostess said in a statement.
In April,
CSM Bakery announced the voluntary recall
of its 8-inch single-layer red velvet cake, sold at Safeway stores. It also recalled 12-inch decorated chocolate chip cookies sold at Acme and Jewel stores because of the flour recall.
Nine other recalls for undeclared peanuts have been issued this year that are not linked to the Grain Craft flour recall.
Read more: http://www.cnn.com/2016/06/07/health/rold-gold-hostess-recalls-pretzels-snacks/index.html