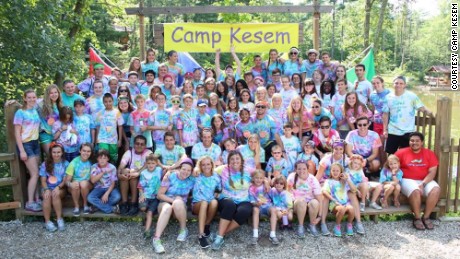 (CNN)When Abigail "Abi" Yates was 10 and her father was battling a rare blood disease, her parents told her they were sending her to a special summer camp.
She cried.
"I did not want to go. I didn't know anybody. I was like, 'Why do I have to do this?' " Abi said. "And, at the time, I didn't understand the severity of my father's illness, either. ... I just knew that something was wrong and I had to go to this camp, so I didn't know what to expect."
Over 3 million children have been touched by a parent's cancer, said Higley, so the need is great. Five years ago, 1,000 children attended Camp Kesem, and this summer, more than 6,000 children will attend. "The goal is to continue to grow year after year so that more children will benefit," Saccaro said.
It costs roughly $1,000 to support a camper start to finish year-round, so to cover over 6,000 kids this summer, the organization will have raised over $6 million, Saccaro said.
Saccaro spent her career in strategic consulting but joined Kesem five years ago to add meaning to her professional life. At that point, thankfully, most of the people in her family who had been affected by cancer were grandparents, aunts and uncles and "folks much further down along their lives," she said.
Seven weeks after she started running the organization, that changed. Her younger sister, whom she calls her best friend, was diagnosed with stage IV colon cancer. At the time, her sister had a 3-year-old son and 10-month-old twins. She died 11 weeks after the diagnosis.
"I think in terms of this job, there's tons of very, very painful
life lessons
that come at you really quickly, but what I think it has shown me ... [is that] cancer cuts across all sorts of demographics and socioeconomic groups and is relentless, and so I think that was life lesson number one."
A second life lesson, she says, comes from the student volunteers, 80% of whom have had cancer affect someone in their family. "I think I've learned by watching them that you have a choice. You can have these horrible things that affect you take you down a negative path, or you can take these life experiences and you can use them for good."
The magic of Camp Kesem
A few years after Abi Yates started at Camp Kesem, her father underwent a full bone marrow transplant. He and her mother lived in Seattle during the procedure, while Abi and her sister, Sophie, stayed home with family, supported by the Camp Kesem community.
"It was a silent presence. ... I don't even
think we
were aware of how emotionally, mentally, physically involved they were with our children," Jennifer Yates said.
When Abi was 16, her father died from his illness. What helped her, especially during the most difficult days, was knowing that Camp Kesem was a "safe place" that was always going to be there.
"I always was looking forward to that one week of the summer where I was able to see my family again, my Kesem family, and have that experience of magic and love that was so, so important because it made me realize that you have to stay positive in life," she said.
"Magic" and "magical" are words every person I interviewed for this story used to describe Camp Kesem. In fact, Kesem means "magic" in Hebrew, although the camp is open to campers from all religions and ethnic backgrounds.
Part of the magic is that faced with the incomprehensible, the loss of a parent, Camp Kesem has made those affected better people, such as Abi and Shamon.
Shamon is finishing up his third year as a Camp Kesem regional program director, while Abi is beginning her first year in the same role, overseeing nine chapters in Kentucky, Ohio, West Virginia, New York and Pennsylvania. Both are committed to making Camp Kesem part of the rest of their lives.
It's an impossible question to really answer, but I ask Abi whether she can even think about how proud her dad would be of where she is and what she's doing now.
"I wish that I could tell him ... through him being so sick, he gave me such a beautiful gift," she said. "It's like out of this really ugly, terrible time and thing to have happen, I was given such an amazing thing, so in a way, I am thankful because I wouldn't be who I am, I wouldn't have this, if it weren't for his sickness."
To any parents who may be considering exploring Camp Kesem -- there are still slots available at select camps across the country this summer -- Abi's mother, Jennifer, has some pretty direct advice: Sign up.
"Don't be afraid. Look it up. There's a lot of pride in families with cancer ... but it is and it has to be spoken of because of the effect on the children."
Read more: http://www.cnn.com/2016/06/20/health/camp-children-parents-cancer-camp-kesem/index.html