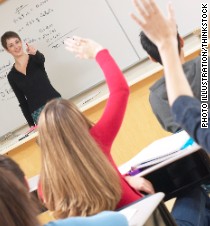 (CNN)It's a question every mom and dad wants answered: What are their kids really up to?
Today, parents are getting some insight from the Centers for
Disease Control
and Prevention's
Youth Risk Behavior Survey
, which has been conducted every other year since 1991. It now covers 118 health behaviors, as well as statistics on obesity and asthma.
The report notes that the prevalence of most health-risk behaviors -- such as riding with a driver who had been drinking alcohol, physical fighting and current cigarette use -- has decreased. Some behaviors and outcomes have not changed, including suicide attempts treated by a doctor or nurse, smokeless tobacco use, having ever used marijuana and attending physical education classes. Some have increased, such as being obese or overweight and not drinking milk.
The survey "helps us identify newly emerging behaviors and monitor long-standing youth risk behaviors over time," said
Laura Kann
(PDF), chief of the CDC's School-Based Surveillance branch. "While overall trends for the 2015 report are positive, the results highlight the continued need for improvements in reducing risks among teens."
The 2015 survey includes results from a national survey, 37 state surveys and 19 large urban school district surveys, conducted among students in grades nine through 12. In all, more than 15,000 students took part in the survey. Participation was voluntary, and responses were kept anonymous.
Here are the highlights from each of the report's six categories, as well as some insight from CNN's extensive reporting on all of these areas of health and wellness.
"Nationwide, 42% of students who had driven a car or other vehicle during the past 30 days reported texting or emailing while driving," according to the report. "This percentage did not change from 2013."
Diet soda isn't much better. Some
interesting research
has shown that people who drink diet soda may consumer fewer calories overall, but a higher percentage of their calories came from "discretionary foods," such as cookies, chips, French fries and ice cream. The authors of that study say people who drink diet soda may feel justified to eat worse foods because they're "saving" calories when it comes to their drinks, or they may drink diet because they feel guilty about eating unhealthy foods.
If you're looking for a caffeine kick, switch to coffee or tea. If it's the fizz you're looking for, try seltzer with a squeeze of lemon or lime.
6. Screen time is eating into outside time.
"While TV time is down, it has been completely replaced by the use of computers," said
Dr. Stephanie Zaza
(PDF), director of the CDC's division of Adolescent and School Health.
"From 2003-2015, the percentage of high school students playing video or computer games or using a computer three or more hours per day (for non-school related work) nearly doubled, from 22% to 42%," according to the report.
There is an upside to that. Even the most simple games are more active (at least mentally) than passively watching television. The downside? Nearly every parent would agree that when they were a kid, this time was spent outside, doing something active.
The good news is that this might just be one of the simplest problems to fix: Put down the phone and get outside.
Read more: http://www.cnn.com/2016/06/09/health/cdc-national-youth-risk-behavior-survey-2015/index.html