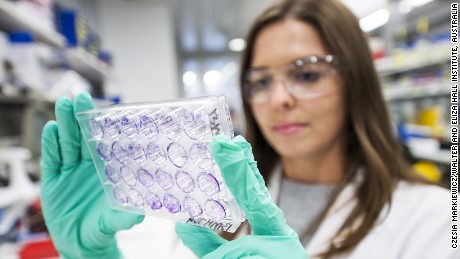 (CNN)Scientists might have just pinpointed a nonsurgical way for women at a high risk of breast cancer to minimize their chances of developing the devastating disease.
About 12% of all women across the United States will develop breast cancer in their
lifetime
, according to
the National Cancer Institute
. However, about 65% of women with a mutation in the breast cancer gene BRCA1 will develop breast cancer by age 70.
Women with the mutated gene have very few options to minimize that risk. Most, including
actress Angelina Jolie
, resort to a mastectomy as a preventive measure.
Of course, more tests and clinical trials are needed before denosumab can be considered for use as a breast cancer preventive drug.
Researchers at NYU Langone Medical Center are planning to conduct a clinical trial. They hope to further examine the molecular changes that occur in breast tissue when a dose of denosumab is administered, said Dr. Francisco Esteva, professor at
NYU Langone's Perlmutter Cancer Center
, who was not involved in the most recent study.
"The new study does not change any management or clinical use of any drugs at this point, but it provides data that can be tested in a clinical trial," he said. "The data are compelling."
Lindeman and Visvader said their research team is also hoping to contribute to a large international collaborative clinical trial, starting within the next two years.
"Of course, results from a large clinical study would take time: up to 10 years," Lindeman said. "However, this does offer hope for the next generation of women."
Read more: http://www.cnn.com/2016/06/21/health/brca1-breast-cancer-drug/index.html