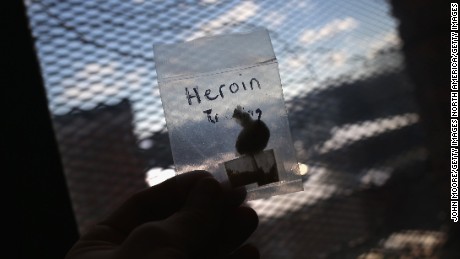 (CNN)Worldwide, drug use has remained steady over the past four years, according to a report released today by the United Nations Office on Drugs and Crime. However, researchers found that heroin use in the United States is up 145% since 2007.
One in 20 adults -- roughly a quarter of a billion people between ages 15 and 64 -- used at least one illegal or improperly used drug in 2014, according to the World Drug Report 2016. Though the numbers have not grown in proportion to the global population, new trends have developed, including increased sales in anonymous online marketplaces.
"The darknet is becoming a very popular way for people to get drugs," said Joseph J. Palamar, an assistant professor at NYU Langone Medical Center who was not involved in the new research.
"This raises concerns in terms of the potential of the 'dark net' to attract new populations of users by facilitating access to drugs in both developed and developing countries," the authors wrote.
In the United States, opioid drug use has been frequently described as an epidemic. Worldwide, the U.N. researchers found a total of 33 million opioid users in 2014.
Other recent reports, relying on different methodologies and definitions, suggested a more hopeful view.
"Among adults aged 18 to 64 in the U.S. during 2003 to 2013, the percentage of nonmedical use of prescription opioids went down," Dr. Beth Han said. In a
recently published study,
she found a decrease from 5.4% in 2003 to 4.9% in 2013. That said, she also found significant increases in the prevalence of prescription opioid use disorders, frequency of use and drug-related deaths.
"I believe opioid use is underreported," Palamar said. Based on his
own work
, 12.4% of students reported lifetime nonmedical opioid use while 1.2% reported lifetime heroin use. However, self-reported drug use can easily be under- or overestimated, he said.
For instance, he and his colleagues tested hair samples of people outside clubs and festivals in New York and discovered that four out of 10 people who said they took only Ecstasy (Molly) also came up positive for bath salts (a lab-created drug chemically similar to cathinone, a stimulant).
He cited a recent
European report
that unearthed 101 new street drugs in 2014 alone. Most were synthetic cannabinoids, and in second place were synthetic bath salts, known on the street as flakka. Unintentionally, then, people here and elsewhere may be mixing drugs or taking a drug cut with something else they are unaware of, he said, which could lead to unknown health consequences.
"We found flakka in someone's hair who thought she'd taken Ecstasy," he said.
Read more: http://www.cnn.com/2016/06/23/health/un-world-drug-report/index.html