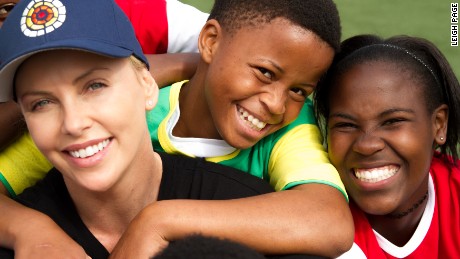 Durban (CNN)Oscar-winning actress Charlize Theron was born and raised in South Africa, where she grew up around HIV and experienced people dying from AIDS. Now 40, she blames society -- not the infection -- for why the virus still persists.
On Monday, Theron took the
stage
before 18,000 doctors, researchers, activists, policymakers and heads of state at the official opening of the
21st International AIDS Conference
in Durban, South Africa, and used the opportunity to share some hard truths.
"We value some lives more than others," said Theron, a
UN Messenger of Peace
and founder of an
outreach project
targeting South African youth affected by HIV. She acknowledged that something is "terribly wrong" when 2.1 million people continued to become infected with HIV in 2015, despite us "having every tool to prevent the spread of HIV."
We've had 21 of these conferences since 1985, I believe that we've slacked in many ways in actually stopping HIV once and for all. I think there are a lot of drivers involved in that, that have not really been truly addressed, that people are too scared to talk about [the inequality around gender, race and sexuality] ... I'm always excited about the possibility of like-minded people coming together and doing that. At the same time, it makes me question why we are still coming together and doing it.There are aspects in prevention and stopping AIDS that I don't think are fully addressed and I think, for me, I wanted to be part of this conference because I want to have that shared conversation with other people in different fields.
CNN: Is there a specific person that stands out that keeps you thinking about why you do this?
Theron: Well, there was a young boy in a sexual and reproductive health education class early on when I started working. I was kind of still finding my own way but he was incredible -- his story has always stayed with me through all of these years. I tend to cry when I talk about, so, it's amazing how long it's been affecting me this way, I think it was a mixture of reasons. I am South African and I am so aware, even as a white, privileged South African, that even within our community of privilege the idea of talking about sex or sexual preference or sexual identity or anything like that was just, nobody ever did that and nobody ever felt comfortable doing that.
I witnessed this 16-year-old boy in a class about female condoms raise his hand very, very proudly, in front of boys and girls, his peers, and asked if he could use a female condom for anal sex. Within that one question he stated a lot about himself that I had never witnessed in South Africa. It was very powerful for me. I'd never seen a 16-year-old boy be that proud or that confident to talk in that manner in front of his friends.
CNN: And what was the response of the people around him?
Theron:
We didn't know. Isn't that incredible? We all kind of looked at each other and you know, no one's ever asked that question and you don't ever want to give inaccurate information, so you always want to watch what you tell them. I got on a phone with a friend who works side by side with us, I think of him as a great educator ... he is a very well-known South African comedian, Pieter-Dirk Uys, and I called him. He's also openly gay. I said "Pieter, can you use a female condom for anal sex?" and he said, "Of course darling, of course you can!" [Female condoms are
not currently licensed f
or use during anal sex and according to the
Centers for Disease Control and Prevention
, evidence for their effectiveness does not yet exist.]
But it just, it moved me, because, you know, you think sometimes the hill is too high, the idea of stigma and the taboos of behavior and how people have lived for so long believing one thing, misconceptions about HIV and AIDS, all of that stuff is very frightening. It feels like that mountain is just too high to climb.
Then when you experience something like that, it reenergizes you to believe that it's not impossible.
That boy changed it for me, very much.
Read more: http://www.cnn.com/2016/07/20/health/charlize-theron-hiv-south-africa/index.html