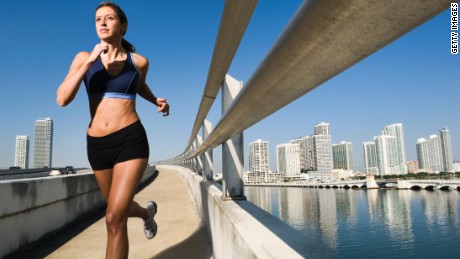 (CNN)Forget about fitness-focused New Year's resolutions. Experts say summer might actually be the best time of year to conquer a new workout routine.
After all, summer days offer warmer weather, more daylight and a greater chance that you can book time with
a workout
buddy.
"I have suggested that the end of summer -- and the start of the new school year -- is a good time to
revisit New Year's resolutions
," said Brian Parr, associate professor of exercise and sports science at the University of South Carolina-Aiken.
Take advantage of longer summer days
Jennifer Heisz, assistant professor of kinesiology at McMaster University in Ontario, has studied how networks in our brains are affected by physical exercise. During her research, she has noticed that exercise patterns fluctuate from season to season in North America.
"People are most active during spring and summer and least active during the winter. In (the) southern United States, activity levels can actually drop during summer because it is too hot and humid," she said. "The seasonal effects are driven by outdoor activity. The weather is warmer and the days are longer, making activity outdoors more enjoyable and safer. Seeing others being active outside is also a motivator."
Parr, the associate professor in South Carolina, agrees.
"Winter is a good time to try new types of exercise, like yoga, group exercise classes or weight training in the gym," Parr said.
"With limited time, exploring shorter exercise programs like high-intensity interval training (HIIT) can be a great way to get in shape in just a few minutes," he added. "The important thing is to make including exercise in your day a priority. Aside from maintaining and improving fitness, keeping active can help you prevent winter weight gain."
Indeed, Romeo said that the key to seeing and keeping fitness results is to keep it up.
"Your body needs to be taken care of year-round," Romeo said. "It's a full-time job but one that is very rewarding."
As long as you stay active throughout the year, you're on the right track, Parr said.
"Really," he said, "there is no 'wrong' time to start making exercise and other health changes. People should pick a time that they think will work for them."
Read more: http://www.cnn.com/2016/07/29/health/summer-exercise-benefits/index.html