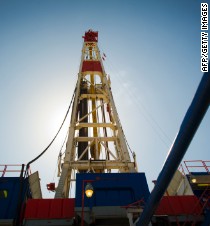 (CNN)Ever wondered if your asthma attacks can be tied to the fracking wells near your house? You are probably right.
Asthma patients
are 1.5 to four times more likely to have asthma attacks if they
live near
bigger or a
larger number
of unconventional natural gas development wells, according to a
study
published Monday in the Journal of the American Medical Association Internal Medicine.
The researchers at Johns Hopkins University partnered with Geisinger Health System and conducted the study using electronic health records from 2005 to 2012 in north and central Pennsylvania.
Among the 27,000 identified asthma cases with patients age 5 to 90 that met the study's criteria, about 20,000 were categorized by the researchers as having mild attacks (new oral corticosteroid orders), 1,800 were moderate attacks (emergency room visits), and 4,700 suffered from severe attacks (hospitalizations).
But she said the study adds to a growing body of evidence that links unconventional natural gas development to adverse health outcomes, such as
preterm births
,
low birth weight
and
skin and respiratory problems
. "This is the first study of objective respiratory outcomes and its relationship with unconventional natural gas development," Rasmussen said.
Rasmussen said that since the research project did not single out how far away residents live from development wells as a separate factor, "we can't really give recommendations on a safe distance." She suggested concerned patients speak with their doctors about their condition.
"Going forward, everyone can learn from Pennsylvania's experience," said Brian S. Schwartz in a
news release
, the study's co-author and a professor in the Department of Environmental Health Sciences at Johns Hopkins. "State regulatory bodies should use the growing number of health studies to understand the possible environmental and public health impacts of this industry and how to minimize them."
Read more: http://www.cnn.com/2016/07/18/health/fracking-increased-asthma-attacks/index.html