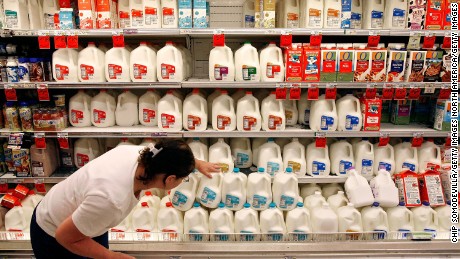 No one wants to serve spoiled food to their families. Conversely, consumers don't want to throw food away unnecessarily -- but we certainly do. The United States Department of Agriculture estimates Americans toss out the equivalent of US$162 billion in food (PDF) every year, at the retail and consumer levels. Plenty of that food is discarded while still safe to eat.
Part of these losses are due to consumers being confused about the "use-by" and "best before" dates on food packaging.
Most U.S. consumers report
checking the date before purchasing or consuming a product, even though we don't seem to have a very good sense of what the dates are telling us. "Sell by," "best if used by," "use by" -- they
all mean different things
. Contrary to popular impression, the current system of food product dating isn't really designed to help us figure out when something from the fridge has passed the line from edible to inedible.
Smaller companies may list a date on their product based on the length of shelf life they have estimated their competitors are using, or they may use reference materials or ask food safety experts for advice on the date to list on their product.
Even the best dates are only guidelines
Consumers themselves hold a big part of food safety in their own hands. They need to handle food safely after they purchase it, including storing foods under sanitary conditions and at the proper temperature. For instance, don't allow food that should be refrigerated to be above 40 for more than two hours.
If a product has a use-by date on the package, consumers should follow that date to determine when to use or freeze it. If it has a "sell-by" or no date on the package, consumers should follow storage time recommendations for foods kept in the
refrigerator or freezer
(PDF) and
cupboard
(PDF).
And use your common sense. If something has visible mold, off odors, the can is bulging or other similar signs, this spoilage could indicate the presence of dangerous microorganisms. In such cases, use the "If in doubt, throw it out" rule. Even something that looks and smells normal can potentially be unsafe to eat, no matter what the label says.
Read more: http://www.cnn.com/2016/07/06/health/food-manufacturer-sell-by-dates/index.html