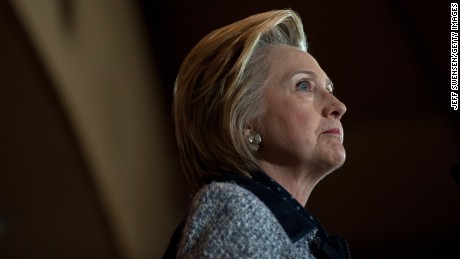 Washington (CNN)Republicans aren't about to let Hillary Clinton's email scandal die.
Attorney General Loretta Lynch
announced Wednesday
she won't press charges against the former secretary of
state
for the use of her private server. But even if the
legal showdown
is over, Republicans want to keep the political war alive.
The GOP will keep the story front and center Thursday when they haul FBI Director James Comey, who advised Lynch not to press charges, before a congressional panel.
Comey on Tuesday lambasted Clinton for being "extremely careless" in handling classified intelligence, a line of attack Republicans will pursue for the rest of the election. For a party struggling with controversy surrounding its own presumptive nominee, Donald Trump, Republican hope this line of attack will exploit Clinton's biggest vulnerability: trustworthiness. It could also undermine the core argument of her campaign, which is that she not Trump possesses the steadiness and good judgment needed to be commander-in-chief.
"The fact pattern presented by Director Comey makes clear Secretary Clinton violated the law," said Jason Chaffetz, chairman of the House Committee on Oversight and Government Reform, which will hold Thursday's hearing. "Individuals who intentionally skirt the law must be held accountable. Congress and the American people have a right to understand the depth and breadth of the FBI's investigation."
As far as the Clinton campaign is concerned, Thursday's hearing represents yet another attempt by GOP lawmakers to trip their candidate up, after the House Benghazi Committee concluded last week without directly implicating the former secretary of state in the deaths of four Americans in Libya in 2012.
"House Republicans are launching yet another taxpayer-funded sham of an inquiry to try to hurt Hillary Clinton politically," campaign spokesman Brian Fallon said in a statement on Wednesday.
"For weeks Republicans have said they trusted FBI Director Comey to lead an independent review into Secretary Clinton's emails, but now they are second-guessing his judgment because his findings do not align with their conspiracy theories."
Lynch's move will likely fuel claims by some Republicans that the entire investigation was set up to protect the expected Democratic nominee -- claims lent added fuel by former president Bill Clinton's tarmac meeting with Lynch at Phoenix Sky Harbor International Airport last week.
In some ways, Thursday's House Committee on Oversight and Government Reform hearing will represent a do-over for Republicans who have, in their fury after the sudden wrapping up of the Clinton probe failed to fully exploit the openings that Comey's fierce criticism of Clinton's conduct appear to open up.
Trump has taken time to marshal an effective assault on Clinton over what appears to be a gaping political vulnerability.
He first chose to pound her in a series of tweets, an aside in a rally on Tuesday night and a paper statement, rather than devoting a prosecutorial speech or a press conference to the affair.
But on Wednesday evening, at a rally in Cincinnati, Trump escalated his attacks, branding Clinton a "dirty rotten liar" and said she was unfit to be President because she had such "bad decision making ability."
"In November, you are going to get out and vote and it is going to be set straight," he told his crowd, before again bemoaning the "rigged" government system that he said had allowed Clinton to escape charges.
But the apparently disorganized GOP response was all the more notable since there are solid political reasons for Republicans to try to prolong the fallout from the email controversy beyond the simple fact that it will likely exacerbate public doubts over Clinton's trustworthiness and character her top political liability.
House Speaker Paul Ryan also tried Wednesday to fan the embers of scandal by suggesting that Clinton's use of classified material should bar her from classified briefings after the party conventions later this month.
Comey's searing critique of Clinton's conduct in setting up the server and her handling of classified data offered the GOP a ready-made rebuttal as they fight her claims that Trump is unfit to be president.
In a few forensic sentences in which he blasted Clinton as "extremely careless" in handling classified information, Comey dented Clinton's core rationale for running for President in a manner that has always eluded Trump.
Yet characteristically, Trump failed to take advantage of the opening and stepped on his own story by blundering into a riff about how former Iraqi dictator Saddam Hussein efficiently dispatched terrorists.
It was a break that the Clinton camp a break gratefully accepted by blasting out a late night statement.
"Trump's cavalier compliments for brutal dictators, and the twisted lessons he seems to have learned from their history, again demonstrate how dangerous he would be as Commander-in-Chief and how unworthy he is of the office he seeks," Clinton's top policy adviser Jake Sullivan said.
Beyond a statement by her campaign, and appearances by surrogates on television, Clinton has yet to respond personally to the dressing down she received from Comey on Tuesday.
CNN's Jeff Zeleny reported on Wednesday that the campaign was still assessing the damage inflicted on her presidential campaign by his appearance. And aides believe it is possible that the committee hearing on Thursday could tempt Republicans to overreach and appear to be acting on purely political motives.
Indeed, the campaign released a web ad on Wednesday accusing Chaffetz of hypocrisy by appearing to reverse an earlier undertaking that he would abide by Comey's decision.
But the Clinton campaign does understands that sooner or later, Clinton must comment publicly on the fallout from the email flap and will likely do so in a sit-down television interview, sources said.
Read more: http://www.cnn.com/2016/07/06/politics/clinton-email-scandal-alive/index.html