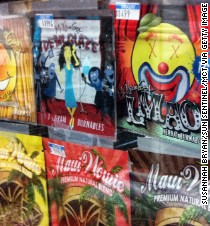 (CNN)The number of cases of poisoning from synthetic marijuana rose sharply in the past year, the Centers for Disease Control and Prevention found, while three deaths -- including that of a teenager -- were blamed on these drugs between 2010 and 2015.
All told, medical toxicologists in the United States reported 456 cases in five years of highly toxic effects caused by lab-produced cannabinoid drugs commonly referred to as "K2" or "spice." They are also known as "Black Mamba," "Bliss," "Bombay Blue," "Genie" and "Zohai."
"What struck us is over the last year we've seen a dramatic increase in synthetic cannabinoid poisonings," said Dr. Jeffrey Brent, one of the authors of Thursday's report published in the "
Morbidity and Mortality Weekly Report.
"
Wednesday's news
of 33 people collapsing on the streets of New York City, presumably from an overdose of K2, underlined the seriousness of these findings. The cases in Brooklyn are not counted in the new CDC report.
Serious consequences
Synthetic cannabinoids can be anywhere from two to 100 times more potent than THC, the psychoactive ingredient in marijuana, the researchers said. This general unpredictability is due to the unknown chemical composition of these drugs, which, the National Institute on Drug Abuse noted, may change from batch to batch.
Fifteen synthetic cannabinoids are classified as Schedule I controlled substances. The Drug Enforcement Administration's designation of Schedule I means the drugs have no currently accepted medical use and a high potential for abuse. To hamper law enforcement, producers of "fake weed" continually change the chemical compound, thereby exploiting a legal loophole and drug test detection.
"So for example, if someone has a job where they get drug screened, they say to themselves, 'The Internet tells me if I take one of these synthetic cannabinoids, it won't be picked up on a drug screen,'" explained Brent. Unfortunately, they are right.
This reinforces a rising trend already documented by the DEA from 2011 to 2015. Separately the U.S. poison centers found a 330% increase in just the first four months of 2015. Both of these reports are cited by Brent and his colleagues.
The street names of the substances most commonly reported by the patient -- or the friends who brought the patient into the hospital -- were K2 and spice.
A little more than a quarter of the patients who had a severe reaction to K2/spice were between the ages of 13 and 18, and the majority -- 83% -- were male. In 61% of the cases, synthetic cannabinoids were the only poison in the patient's system. These patients were agitated, with some showing signs of delirium or psychosis, and some arrived at a hospital in a coma. Seizures and hallucinations were reported less frequently. Three deaths were recorded, the authors noted.
The first death in the time period studied was a 17-year-old male "who suffered a cardiac arrest after reportedly taking a single 'hit' of K2/spice," they wrote.
The second death was that of a man who mixed his fake weed with oxycodone. The third death happened when a man used two additional psychedelics.
Hoping to stem the tide, Brent and his co-authors believe people need to be educated about the potentially life-threatening consequences of using these drugs.
"This is not marijuana," he said. "These are very different drugs."
Read more: http://www.cnn.com/2016/07/15/health/synthetic-weed-k2-report/index.html