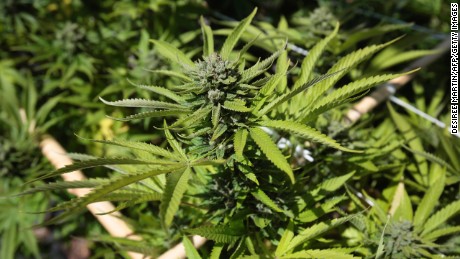 (CNN)Could medical marijuana treat Alzheimer's patients? One recent study found THC, the psychoactive ingredient in cannabis, stimulates the removal of toxic plaque in the brain, a common feature of the disease. Furthermore, the researchers discovered it blocks inflammation, which damages neurons in the brain.
"It is reasonable to conclude that there is a therapeutic potential of cannabinoids for the treatment of Alzheimer's disease," wrote David Schubert, senior researcher and a professor at Salk Institute for Biological Studies.
According to Fargo, the really important thing about Schubert's study is "it gives us a better understanding of the cannabinoid system" and how it's possible to tilt the balance in the brain away from cell death and toward cell survival. Dying neurons in the brains of Alzheimer's patients contribute to their loss of memories and mental abilities -- if you could stop the many individual cell deaths, you might stall the progress of Alzheimer's, he suggested, and Schubert's study points in this direction.
Though Schubert would be interested in learning more about cannabinoids, regulations surrounding marijuana research make such a task daunting.
In fact, "relatively few" researchers are currently exploring medical marijuana, said Fargo, who explained there are just a small number of ongoing clinical trials and most of these consist of very few people -- less than a hundred.
"It's much harder than it should be to do research on medical marijuana and the cannabinoids it contains," said Casarett, who believes the single most important thing the government could do to improve medical marijuana research would be to reclassify marijuana as Schedule II or III.
"The bottom line is I'm absolutely convinced that medical marijuana has real medical use," said Schubert. Clearly, he's not alone.
Read more: http://www.cnn.com/2016/07/25/health/alzheimers-medical-marijuana/index.html