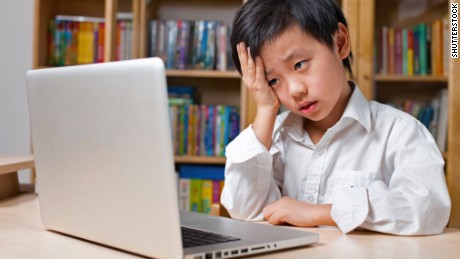 (CNN)There is no question that one of the most difficult things about being a parent is letting our children stumble, fail, make mistakes.
For instance, the night before a math test, I wonder if I should try to find a way to do some practice math with my daughters. I know it's wrong and I shouldn't -- and I ultimately don't -- but that still doesn't mean I don't feel somewhat anxious about it.
After hearing Leibert's story, Fisher told him, "So you want to talk to (your son) and say, 'What can you do to do your best, love what you do and feel OK with learning (and) knowing that you don't have to be perfect?' ... Let's look out 20 years. How that's going to be in 20 years when you are still expecting yourself to be perfect. What might that feel like if you make a mistake?' "
'Focus on process over end product'
Her biggest piece of advice for parents back then was to try to stay away from the focus on end results, particularly grades and test scores. Instead, praise the effort that went into the task.
Her advice still stands, she said.
"The question I get most often is from parents who are in the same boat I was in a few years ago," she said via email. "I knew I was overparenting and rescuing my kids from discomfort and frustration, but I did not know how to START turning that boat around."
The first thing any parent needs to head in the right direction of letting kids fail is to keep a focus on learning above all else, she said. "Focus on process over end product, long-term goals of competence and independence over the short-term rewards of stepping in to 'help' and make our kids' lives easier," she said.
"Any time you find yourself jumping in to rescue or take over a task for your kids, stop and ask yourself, 'Can my kid learn anything from this?' and if the answer is yes, whether that lesson is in a concrete skill or simply a moment to realize that they are more capable than they thought, restrain yourself. Hold your tongue. Lace your fingers together behind your back, and give your kids the opportunity to find out what they are able to do on their own."
I'll be reading that message over and over again for a good long time.
Read more: http://www.cnn.com/2016/07/19/health/letting-children-fail-parent-acts/index.html