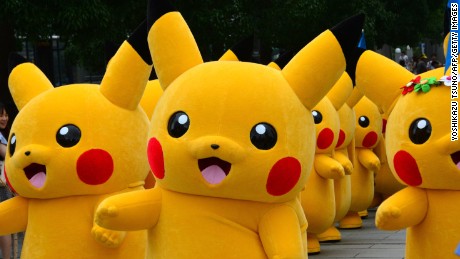 (CNN)Pokemon Go may be keeping gamers glued to their phones, but it's also helping to get them out of the house to be more physically active.
"Many people are saying on social media that their legs are sore from walking, which means that they probably weren't active before," said Dr. Michael Smith, chief medical editor for WebMD and internal medicine physician at Good Samaritan Health Center in Atlanta.
"Anything that gets people moving in my mind is a great thing," he added. "The downside is it's likely to be fleeting. Gamers may go on to the next big thing, but hopefully some will realize just how better they feel physically and mentally after being more active."
"We were at a college, because colleges tend to have more Pokestops, and my friends told me to meet them down at the football field. I was like 'OK I'll go run to meet them,' and fell and sprained my ankle and scraped up the other one," Rodgerson said.
"Once I recover, I think I'll play the game again," she added. "I was physically active before. I used to go to the gym all the time, but I've definitely gone outside so much more since the game came out and so have my friends. My friends and I used to go home after work and play video games online and ever since the game came out we have been going around town together instead."
"All-in-all, if your goal is to reach 10,000 steps and you can do that with a game — great! If you need to get a sweat session in the gym to attain your goal of losing inches, that's great too," said Michelle Kulovitz Alencar, assistant professor in the department of kinesiology-fitness at California State University, Long Beach.
This isn't the first time that America has seen a new technology craze revolutionize how we get moving. Before Pokemon Go, there was the Wii. Before the Wii, there was Dance, Dance Revolution. Before Dance, Dance Revolution, there was the Nintendo Power Pad.
"The trends that we see in technology, they kind of come and go," said Kelly Johnson, an instructor and doctoral student in the department of health, exercise and sports sciences at the University of New Mexico. "Pokemon Go is just a way for people to be more physically active. What happens when the app goes away?"
"It's perfect for interval training," said Johnson, who is currently studying how wearable devices and telemedicine technology influence health outcomes and collaborating with Alencar on research.
"It's like a real-life treasure hunt," Johnson said.
As the player walks during the day, they get closer and get closer to the destination, while also unlocking immersive audio story clips along the way. The game takes three months to complete, which might be long enough to develop a new fitness habit.
"Replacing low to moderate activities with exergaming may be a fun, exciting and enjoyable alternative. Additional activities, such as sports, recreation, chores, work, planned exercise and school-based physical education, should also be incorporated in a child's daily schedule," Leaming said.
Read more: http://www.cnn.com/2016/07/14/health/pokemon-go-exercise-games-apps/index.html