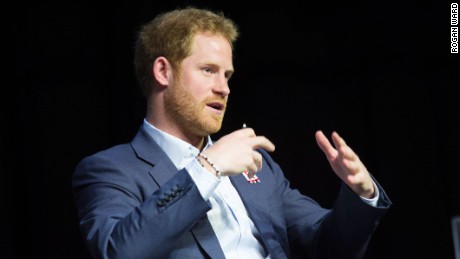 (CNN)In 1987, a photograph of Princess Diana shaking the hand of a man with AIDS helped to break down stigma around the illness. Nearly 30 years later, Prince Harry is highlighting the need to continue fighting the stigma persisting around today's AIDS epidemic, particularly among teenagers.
The prince voiced that young
people
worldwide need to be educated and empowered to take control of their
health
, and that society needs to change to get rid of the stigma circling the disease today.
His passion to end the AIDS epidemic was praised by Sir Elton John who, in his own speech, said he could not relate to
teenagers
in the way Harry can and praised him for following his mother's determination to "make the world a better place."
UNAIDS have set the goal of ending the AIDS epidemic by 2030, but many in the field feel this may not be achieved. The prince thinks young people can make it happen.
"In helping young people to fight HIV, we will not just be ending his epidemic," he said. "We'll be changing the direction of history for an entire generation."
Read more: http://www.cnn.com/2016/07/21/health/prince-harry-diana-aids-conference/index.html