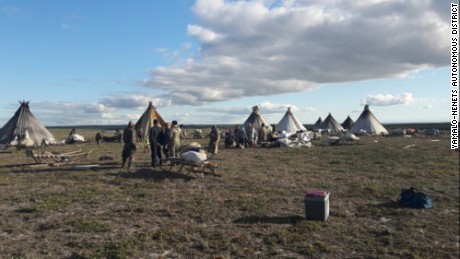 (CNN)Thirteen people have been hospitalized amid an outbreak of anthrax in western Siberia, the governor's office of the Yamalo-Nenets autonomous region reported Thursday. Experts with the Russian Ministry of Agriculture believe the cause of infection is the thawing of the frozen carcass of a reindeer that died 75 years ago.
The hospitalizations came after up to 1,200 reindeer died over the past month,which officials originally blamed on a heat wave in the region. Unusually high temperatures of up to 35 degrees Celsius (95 degrees Fahrenheit) recorded over the past month might have weakened the reindeer.
Now, laboratory tests have confirmed that the reindeer died of anthrax, Gov. Dmitry Kobylkin's office reported.
However, Moscow laboratories have not confirmed that the patients' illnesses were caused by anthrax. But in the meantime, the patients are being treated as though they have the illness, including treatment with antibiotics.
Scientists speculated that the deer, weakened from the heat, ate the thawed remains of an infected reindeer carcass that had been frozen for many years. From there, the infection was passed to nomad herders.
An
alternate theory
proposed by some experts is that the deer picked up the infection from an abandoned cemetery in Halmer, where, in following an ancient tradition, the deceased have been placed in wooden boxes and set on the ground rather than buried. Soil samples in the area do not contain the pathogen.
This would be the first anthrax outbreak in the area since 1941, said Anna Popova, chief state sanitary doctor of Russia. The territory has been free of the infection since 1968.
Meanwhile, officials have been vaccinating all the reindeer in the region. The mass vaccination should be completed within a day.
Popova said authorities will soon begin
sanitation
of the area, including recovery of animal corpses. Diesel fuel was delivered to the region to burn the infected carcasses, but officials have been hesitant to do so because of recent wildfires in the region, the governor's office
said
.
Read more: http://www.cnn.com/2016/07/28/health/anthrax-thawed-reindeer-siberia/index.html