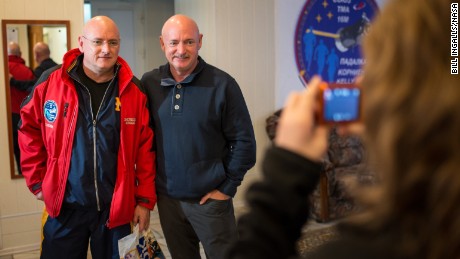 (CNN)Although they never flew in space together, twins and retired astronauts Scott and Mark Kelly both understand why the other one misses viewing Earth as a big round ball in space from the window of a shuttle or the cupola of the International Space Station.
Arriving in Los Angeles the other
day
, Mark Kelly saw the Space Shuttle Endeavour again on display at the California Science Center. It's the shuttle that took him on his
first
mission into space, the one he also commanded on its last flight in 2011.
It was a bittersweet and nostalgic moment for the retired astronaut. "I just wanted to roll it to the launchpad and go up for one last time," he said, speaking on a panel with his brother and CNN Chief Medical Correspondent Sanjay Gupta at the
International Space Station Research and Development Conference
in San Diego.
"We often think about the risk of flying in space as the liftoff and the landing, especially with what happened to the Challenger and Columbia missions, but when you analyze a space shuttle flight, statistically, the riskiest time is actually being in space," Mark said. "To be in space for a year on the ISS, you also run the risk of being hit by orbital debris or a meteorite or dealing with an ammonia leak. But I also understand the risks of landing. There probably aren't many people Scott can talk to who understand what's happening on the space station, or even just the numbers, like I do."
But for the brothers, not being able to come home if something happens to their loved ones was the greatest challenge.
"What I thought about more than anything was the case where something happens to somebody on the ground -- your kids, my sister-in-law Gabby Giffords -- and you can't come home," Scott said.
In 2011, Scott was on the ISS when Mark's wife, former Rep. Gabrielle Giffords, was shot during an assassination attempt. Although he couldn't come home, he was on the phone with his brother and their family every day for weeks afterward.
During Scott's year in space, he spoke with his brother on the phone almost every day. They talked about everything from the space program to football to politics. One conversation remains amusingly memorable for both of them.
"I was on the phone with him about three months after he went up and I was walking down the street in New York, telling him I was on a trip and wouldn't be home for three weeks and that it was such a long time," Mark said. "I forgot who I was talking to for a minute. He said two words, and the first one started with the letter F."
Read more: http://www.cnn.com/2016/07/12/health/mark-scott-kelly-sanjay-gupta-interview/index.html