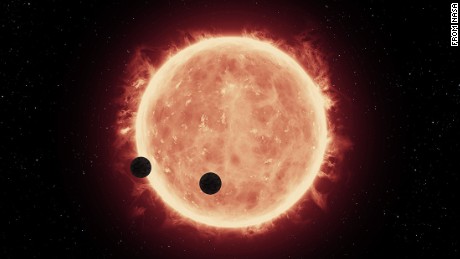 (CNN)For a craft that was launched in 1990, the Hubble Space Telescope continues to provide us with awe-inspiring firsts. This time, researchers pointed its venerable lens in the direction of Earth-size planets beyond our solar system to give us the first glimpse into their atmospheres, according to a new study.
In May, researchers shared the discovery of three Earth-like worlds orbiting an ultracool dwarf star named TRAPPIST-1, 40 light-years away. Ultracool dwarf stars are at the end of the range of what classifies as a star, at half the temperature and a 10th the mass of the sun, so it was a first to find planets orbiting this star. The three exoplanets also appeared to be in the "habitable zone" of the star, meaning liquid water could pool on their surfaces.
But they also want to raise money to
build telescopes
for surveying the northern sky. The planets they could find using these telescopes can identify more subjects for the James Webb Space Telescope, launching in 2018.
"The mirror of JWST is nearly three times the size of Hubble's and will be positioned 1 million miles from the Earth, meaning it can get an unprecedented view of the universe," Wakeford said.
The James Webb telescope will be able to detect wavelengths of atmospheric makeup and possibly even ozone, she said.
De Wit and his colleagues are thrilled that they were able to make these two discoveries and share the results so quickly.
"We like to joke about the fact that the 'Force' was with us on (May the 4th), but when you look at everything that has happened so far with this system, we've really been lucky," he said, noting that they made the observation on "Star Wars" Day. "What a nice way to start the exploration of other worlds!"
Read more: http://www.cnn.com/2016/07/28/health/atmosphere-rocky-earth-exoplanets/index.html