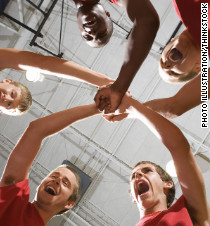 (CNN)Teenagers engaged in sports and exercise have lower risks of using opioids without a doctor's order, according to a study published Monday in the journal Pediatrics.
Researchers at the University of Michigan looked at data from more than 191,000 eighth- and 10th-graders who participated in the Monitoring the Future survey from 1997 to 2014.
Among the respondents, 53.3% reported sports and exercise participation almost every day ("highly involved"), 38.8% reported it once a week at most ("moderately involved"), and 7.9% had not participated in sports and exercise in the past year.
The results of the current study point to decreases in heroin use and prescription opioid misuse across athletes and non-athletes.
Keeping a close eye on young athletes
But another researcher said the study didn't consider the right question about teen athletes and opioids.
Dr. Andrew Kolodny, chief medical officer of Phoenix House, a substance abuse treatment program, said the United States is experiencing an epidemic of opioid addiction, not a recreational opioid use problem. Medical use of opioids, in addition to nonmedical use, is a risk factor for opioid addiction.
"They studied the wrong problem. ... The issue with young athletes is medical use, not nonmedical use," said Kolodny, who was not involved in the new study. "Young athletes are becoming addicted to opioids through medical treatments for injuries. And playing sports may actually increase risks of addiction if injuries are treated with opioids."
Veliz said the scope of the current study was limited by the data available. The researchers were able to find out only whether teens are using prescription opioids without doctors' prescriptions and the frequency of their sports and exercise participation, he said.
The findings of the current study do not mean that coaches, parents and physicians need not think about opioid abuse among teens,Veliz cautioned. Athletes involved in high-injury sports,such as football, ice hockey, lacrosse and wrestling, might still try to hide pain. They require close monitoring of their prescription painkiller use.
Parents may encourage their children to play sports but should watch out for warning signs such as depression and continued use of medications after their injuries.
Moving forward, Veliz hopes to study which types of sports are particularly linked to higher risks of prescription painkiller and heroin abuse.
Read more: http://www.cnn.com/2016/07/29/health/teen-athlete-opioid-heroin-abuse-study/index.html