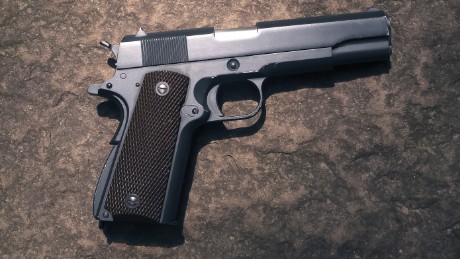 Men commit over 85% of all homicides, 91% of all same-sex homicides and 97% of all same-sex homicides in which the victim and killer aren't related to each other.
These startling statistics are driven home with each new mass shooting (though the tragedy in San Bernardino, California is a bit unusual in that a married couple were the shooters).
In any event, politicians and the media are trotting out the usual suspects to explain the tragedy, whether it's the lack of attention paid to mental illness or the easy availability of guns.
But these explanations dance around the big questions: why is there always a man behind these shootings? And why is it almost always a young man?
Evolutionary psychology can provide some clues.
Precarious manhood
Psychologists Joseph Vandello and Jennifer Bosson have coined the term
"precarious manhood"
to describe a dilemma that only men seem to face.
In 2006 I
coauthored a laboratory study
on men's responses to guns in the journal
Psychological Science
with my colleague Tim Kasser and one of our students. We demonstrated that males who interacted with a handgun showed a greater increase in testosterone levels and more aggressive behavior than males who interacted with the board game Mouse Trap.
In the study, each participant dismantled either a gun or the mousetrap, handled its components and then wrote instructions for how to assemble the objects. Then we gave them the opportunity to put hot sauce into water that was going to be consumed by another person. The participants who handled the gun put in significantly more hot sauce — and were also more likely to express disappointment after learning that no one was going to actually drink the concoction.
Thus, cues tied to threats often won't result in aggressive responses unless testosterone is involved. Elliot Rodger, the disturbed college student whose violent 2014 rampage through Santa Barbara, California, was foretold in a chilling
YouTube video
, clearly experienced a testosterone surge upon purchasing his first handgun.
"After I picked up the handgun," he explained, "I brought it back to my room and felt a new sense of power. Who's the alpha male now, bitches?"
Mass shooter = low-dominant loser?
Young male violence is most likely to be initiated by young men who don't command respect from others. They'll often feel like slighted outcasts, deprived of what they want or feel they deserve.
British clinical psychologist Paul Gilbert has developed something he calls the
Social Attention Holding Theory
(PDF). According to Gilbert, we compete with each other to have other people pay attention to us; when other people take notice, we build status. The increased status that comes from having others attend to us leads to all kinds of positive emotions. But persistently being ignored by others produces much darker emotions — especially envy and anger.
It's no mystery why the media will often describe mass shooters and terrorists as misfits or loners. In many cases, they are.
Nicolas Henin was a Frenchman who was held hostage by ISIS for ten months. Here's
how he described
his young, murderous, Jihadi captors: "They present themselves to the public as superheroes, but away from the camera are a bit pathetic in many ways: street kids drunk on ideology and power. In France we have a saying — stupid and evil. I found them more stupid than evil. That is not to understate the murderous potential of stupidity."
Apparently, a lack of attention from others results in a lack of status, resulting in a lack of access to women. Combined with a young man's testosterone, it creates a toxic, combustible mix.
There may not be much we can do to change the structure of the young male mind that evolved over the course of millions of years. However, ignoring or denying its existence doesn't do us any favors.
Read more: http://www.cnn.com/2016/07/08/health/psychology-mass-shootings/index.html