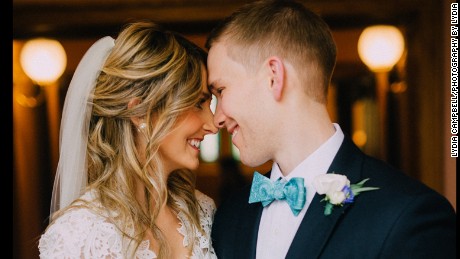 (CNN)Leeanne Hester was seeing a patient when she suddenly felt like she was going to pass out and had to excuse herself from the room. The 23-year-old was working a part-time job at a primary care physician's office while close to finishing earning her master's degree in public health at George Washington University in the early summer of 2013.
For months, she had dealt with an unbearable level of fatigue that shadowed her every
day
, until she was exhausted all of time. Then there was a sick feeling in her stomach that wouldn't go away and unexplained weight loss. But this light-headed episode was enough to finally make her see a doctor.
Everything had been falling into place. Soon, she would finish school. Her boyfriend, Jimmy Mako, would be joining her in Virginia in the fall. They had met while she was an undergraduate student trainer at Wittenberg University in Ohio and he was on a physical therapy rotation in the athletic department. Now, they were talking more and more about their future together.
After a colonoscopy, Hester was diagnosed with Crohn's disease. But what she wouldn't know for several months is that she had been misdiagnosed. Her situation was much more dire.
A rare case
Between the summer and fall of 2013, she followed up with her doctorsand learned that her blood counts weren't recovering, which meant the illness wasn't Crohn's. She credits her education, especially in public health, for helping her to advocate for herself.
"I cannot emphasize how important it is to advocate for yourself in our health care system," she said. "I didn't shy away from asking questions and pushing for answers, because I knew something wasn't right with my body. I even had to call and remind one of my specialists that I needed to schedule a followup appointment. Had I waited even a month or two, it may have been too late."
Following her instincts, Hester scheduled a bone marrow biopsy for early December. After so many specialists, she didn't expect it to reveal anything.
But on December 3, she was diagnosed with acute myeloid leukemia, a rare and aggressive blood cancer, and told to start chemotherapy immediately. The cancer can kill within four to six weeks without treatment, Hester said.
"It was extremely overwhelming and shocking to be told that I had cancer," Hester said. "It was the last thing I expected. But I knew all along that something was going on. You know your body."
Three days later, Hester was admitted to the James Cancer Hospital at Ohio State University in her hometown of Columbus. For a week straight, she received a constant drip of chemotherapy. She was hospitalized for treatment for a month, and she would go back in the following months for two more rounds.
Meanwhile, after finishing his physical therapy contract in the Washington, D.C., area, Mako packed up her things and moved to Columbus to be closer to her. He never missed a day visiting her in the hospital.
"You know a man really loves you when he shaves your head for you when your hair is falling out, and he still tells you you're beautiful, kisses you and holds your hands through it all," Hester said.
At the James, Hester was finally able to receive some answers about her misdiagnosis.
"Her case was unusual but not challenging," said Dr. Rebecca Klisovic, her lead doctor at the James. "She faced a few months of confusion because she was a little bit anemic when she was diagnosed with Crohn's. But when her anemia got worse, then we looked closer at that."
Acute myeloid leukemia is an uncommon cancer, especially for people Hester's age, with three to five cases per 100,000 people in the United States and Europe per year, Klisovic said. But Hester's case was even more rare: She had two mutations associated with her leukemia. One was low-risk, but the other, FLT3, was high-risk. One-third of acute myeloid leukemia patients have this mutation, which increases the chances of a relapse.
Two months later, she received an email from Galinsky. He was happy to learn that she was recovering and that she had even reached out. Before her letter, he had no way of knowing whom his donation had helped, but he said he believed that all lives were worth saving.
They exchanged more correspondence, and she began to develop a portrait of Galinsky: a humble and kind young man who used emojis when he was joking and liked to ride motorcycles with his friends. They talked about their hobbies and shared stories and photos of their families.
In April, Galinsky came to the wedding, a small ceremony in a historical church in Ohio. Hester said it was surreal to meet him in person, after only ever exchanging emails, but she wouldn't have had it any other way.
"We were both very grateful to have Evgeny be a part of our wedding celebration, which probably wouldn't have been possible without his donation," Hester said. "Having him there really felt like it gave a wholeness to the day, because the wedding not only marked a new chapter for me and Jimmy as being husband and wife, but also that we could move forward with me being healthy and hope for the future."
She is continuing to do well more than a year after the transplant and returned to work six months ago. Now, the happy couple is enjoying married life, and Hester (now Mako) hopes she can use her experience to help others.
"Cancer is really ugly and hard," she said, "but the love and resilience that people show through the suffering is really beautiful."
Read more: http://www.cnn.com/2016/07/29/health/turning-points-bone-marrow-donation-wedding/index.html