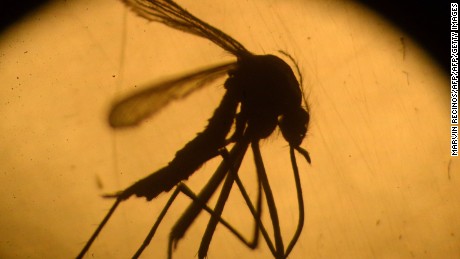 (CNN)Pregnant women should not travel to an area of Miami Beach where local Zika virus transmission has been confirmed, the Centers for Disease Control and Prevention said Friday. This is in addition to a previously identified area of transmission north of downtown Miami.
The agency advised those who have traveled to this area since July 14 to be aware that active transmission of the virus is occurring. Pregnant women should talk to their health care providers about testing, and anyone with
a partner
who is pregnant should follow
recommendations to prevent sexual transmission
of the virus.
Florida Gov. Rick Scott announced Friday that five locally transmitted cases of the Zika virus have been confirmed in an area of Miami Beach.
Three of those individuals were visitors to the area when they contracted the virus. The visitors have returned to their homes in Texas, New York and Taiwan.
Scott asked the CDC for additional Zika tests to screen residents, lab support and addition prevention kits. The kits, which are available from Miami-Dade County OB-GYNs, include insect repellent, tablets that can be placed in standing water to kill larvae, mosquito nets and condoms, along with educational information about the virus and protection against mosquito bites.
Scott also reiterated his request to the Obama administration for a plan to allocate federal resources.
Read more: http://www.cnn.com/2016/08/19/health/local-transmission-of-zika-virus-confirmed-in-miami-beach/index.html