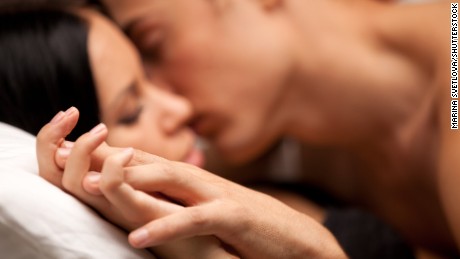 (CNN)Ever since the ancient Olympic Games commenced about 776 B.C., tales of athletes secretly engaging in sex at the ceremonies have become common knowledge. As former Olympic swimmer Dara Torres told CNN in 2012, "What happens in the [Olympic] Village stays in the Village."
Now, with the
2016 Summer Olympics
underway in Rio de Janeiro, the idea of athletes "getting busy" is back in the spotlight. About
450,000 condoms
were allocated this year for athletes to have safe sex.
1988 Summer Olympics

– Condoms were first publicly distributed at the 1988 Olympic Games in Seoul to reduce the spread of HIV.

1994 Winter Olympics – Olympic organizers distributed free condoms to athletes, news media, and celebrities as part of an AIDS awareness campaign at the 1994 Olympic Games in Lillehammer, Norway.

2000 Summer Olympics

– Olympic organizers reportedly distributed some 90,000 condoms to athletes at the 2000 Olympic Games in Sydney.

2010 Winter Olympics

– The British Columbia Center for Disease Control distributed about 100,000 condoms for athletes and officials at the 2010 Olympic Games in Vancouver.

2016 Summer Olympics

– Olympic organizers have allocated about 450,000 condoms to distribute to athletes at the 2016 Olympic Games in Rio de Janeiro, which is equivalent to 42 condoms per person.
For those who decide to partake in sexual activity, will doing the deed dampen athletic performance on the court, track or field or in the ring?
What athletes say about sex
The idea dates to
ancient Greece and traditional Chinese
medicine, which both suggest that abstaining from sex could increase frustration and aggression, and boost energy, said David Bishop, research leader at Victoria University's Institute of Sport, Exercise and Active Living in Melbourne, Australia.
Remember the 1976 film "Rocky"? In the movie, boxer Rocky Balboa's trainer, Mickey, declares that "
women weaken legs
," suggesting that the athlete should put romance on hold while training and competing.
They concluded that "the recovery capacity of an athlete could be affected if he had sexual intercourse approximately 2 hours before a competition event."
A separate paper, published last month in the journal
Frontiers in Physiology
, found that sex had no significant effect on athletic performance. The paper involved a systematic review of nine studies on the topic of sexual activity and athleticism.
Those researchers concluded that "The present review demonstrates that sex activity in sport is poorly investigated in both males and females. However, the data available do not really support the misconception that sex activity can produce a negative effect on the athlete's performance."
Sex advice for athletes
All in all, athletes attending the Olympic Games in Rio this month should not worry excessively about how sex may affect their competitions, said Emmanuele Jannini, professor of endocrinology and medical sexology at the University of Rome-Tor Vergata in Italy.
"Sex is not just fun but also
healthy
," he said, "however, if concentration is important, I would suggest to avoid sex for some few days before the game."
Bishop, the sports scientist in Australia, advised against having sex only if it was going to affect sleep.
"If sex is going to affect performance, it will be via a lack of sleep. … Wait until after your final event," he said, adding, "but I can't see any problems with having sex and then getting a good night's sleep."
"Current thinking in elite sports is that athletes should act in ways they consider 'normal' and not do something that goes against their beliefs, which will induce guilt, such as believing pre-competition sex is not good for you and yet engage in sex anyway," said Mark Anshel, professor emeritus at Middle Tennessee State University's Department of Health and Human Performance.
"A lot of athletes feel guilt-free and OK about pre-competition sex because it helps them sleep better as long as their sleep is not disrupted and sex does not follow a night of partying and alcohol intake," he said. "Most contemporary coaches seem to agree."
Read more: http://www.cnn.com/2016/08/08/health/sex-olympics-athletic-performance/index.html