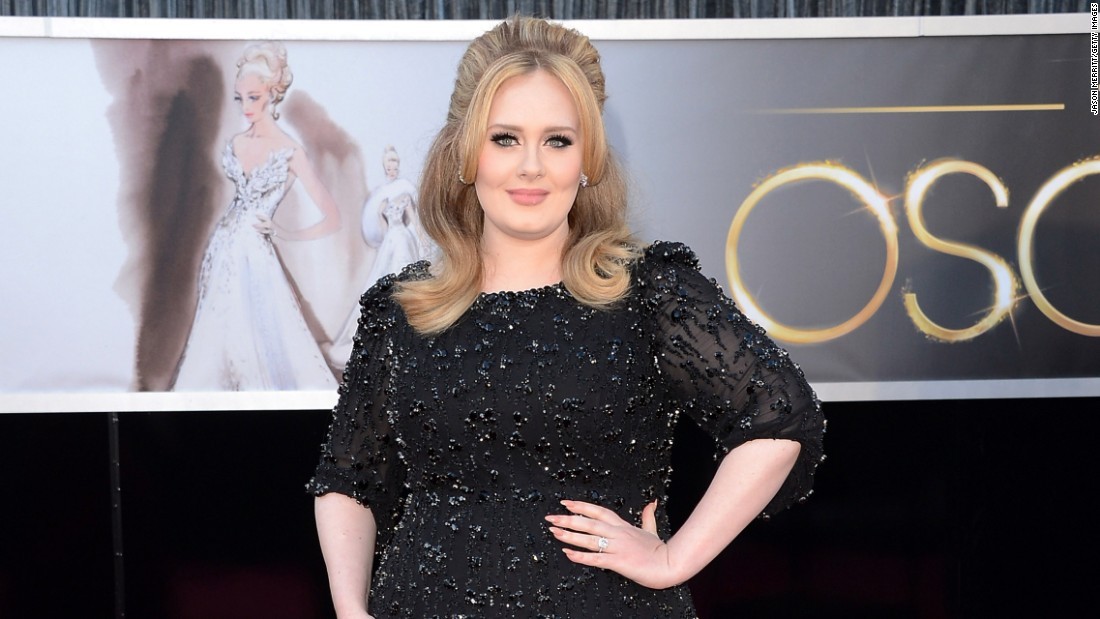 (CNN)In a new Vanity Fair cover story, singer Adele discusses fame and also opens up about her struggles with postpartum depression, a disorder that strikes hundreds of thousands of women each year.
"I was obsessed with my child. I felt very inadequate; I felt like I'd made the worst decision of my life," the star said of the birth of her son, Angelo, now 4.
Born Adele Laurie Blue Adkins, the 28-year-old has won 10 Grammys as well as an Oscar for the title song from the James Bond film "Skyfall."
"You can't talk about the downside of fame, because people have hope, and they cling to the hope of what it would be like to be famous, to be adored, to be able to create and do nice things," she told Vanity Fair.
The singer and Angelo's dad, Simon Konecki, her boyfriend of the past five years, also co-parent his daughter from a previous marriage.
Inadequacy following birth
"My knowledge of
postpartum
— or post-natal, as we call it in England — is that you don't want to be with your child," Adele tells Vanity Fair. "You're worried you might hurt your child; you're worried you weren't doing a good job."
According to the magazine, she struggled with these feelings of inadequacy for a time after giving birth to Angelo.
"I had really bad postpartum depression after I had my son, and it frightened me," she said. "I didn't talk to anyone about it. I was very reluctant."
The fourth subtype is obsessive-compulsive disorder, which comes with horrible thoughts that seem to come out of nowhere, according to Feingold. In some cases, a mother might imagine she is going to stab her baby. Suffering mothers might have such sudden thoughts and then feel very distressed.
"It's a good sign they're distressed," she said, adding that this distress means they are not suffering from postpartum psychosis, a different and very rare condition.
Still, the mother who develops obsessive-compulsive disorder may distance herself from her baby to protect the child.
"They think they're going crazy," Feingold said, adding that women are also afraid that if they talk to someone about it, their baby might be taken away. "It's a very secretive piece, and it can go along with depression and anxiety, but it's not so uncommon."
Origins and treatment
According to Smith, the cause of perinatal mood disorders is believed to be "something to do with the upheaval of hormones that take place during pregnancy and immediately after birth that throw off the neurotransmitters in the brain."
Yet, there's hopeful news, Smith said: "Everybody can get better. … This is not a death sentence or life sentence to mental illness or feeling terrible."
According to Feingold, the "sooner you're treated, the better." She compared it to a bad virus that needs to be taken care of right away.
"I set up an individual plan for each woman," Feingold said. The plan usually includes individual therapy, support groups and sometimes medication. Often, family support is needed as well.
According to the American Psychological Association, postpartum depression can strike any woman, whether she is a first-time mother or the mom of three, whether she is married or not, no matter her race, religion, ethnicity, income or age.
Even superstars like Adele, who is not only feeling better, she's hopeful for the future.
"You're constantly trying to make up for stuff when you're a mom," she told Vanity Fair. "I don't mind, because of the love I feel for him. … I don't care if I don't ever get to do anything for myself again."
Read more: http://www.cnn.com/2016/11/01/health/adele-postpartum-depression/index.html