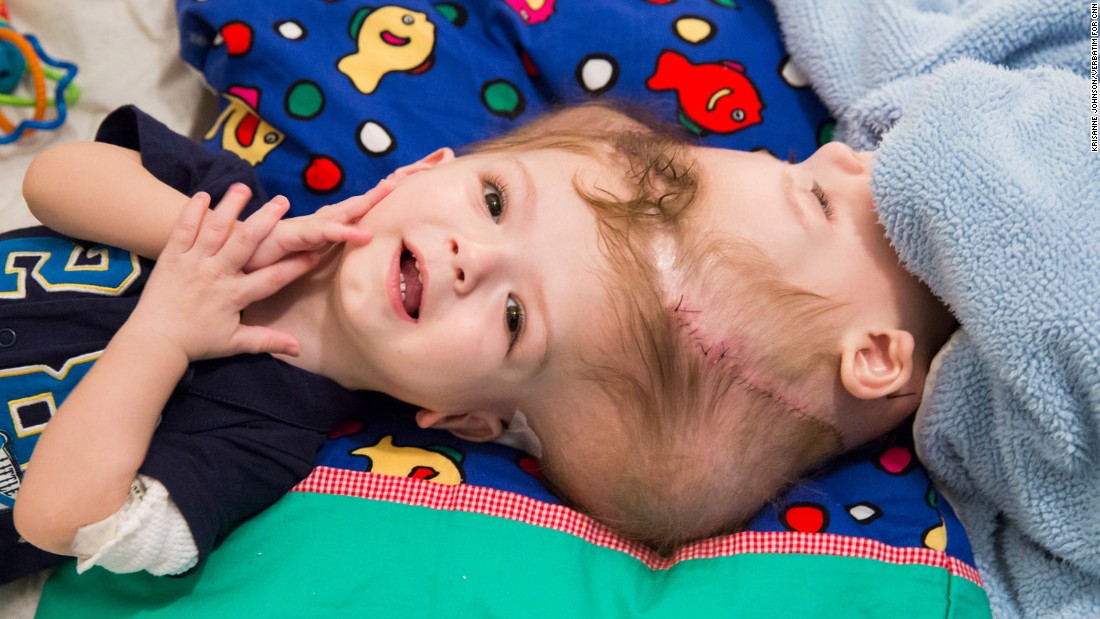 New York (CNN)The twins who were joined at the head and underwent a 27-hour surgery last month to separate them are progressing "right on target, if not ahead of schedule," the lead neurosurgeon tells CNN.
"As a neurosurgeon, I guess it puts you in a happy mood," said Dr. James Goodrich, who led the operation at the Children's Hospital at Montefiore
Medical
Center in the Bronx, New York.
The surgery on the 13-month old twins, Jadon and Anias McDonald, captivated millions around the world. The procedure, known as craniopagus surgery, is so rare that it has been conducted only 59 times since 1952.
Both boys have had their breathing tubes removed since the operation, which began the morning of October 13 and ended shortly before 1 p.m. October 14. Jadon had suffered partial paralysis of his left side after the surgery, but he has since regained full functionality. Anias suffered seizures postoperatively, but they have been kept in check with medication.
Dr. Michael Ushay, director of the pediatric critical care unit, says it was an awesome moment the first time the boys were in the same room "in separate beds and separated from each other."
"This is pretty extraordinary. I remember when Dr. Goodrich did his last conjoined twins here, and that was before I'd actually come to Montefiore, and it was very, very exciting. Now, to be part of it on such a complicated case is very, very rewarding. I've always enjoyed working with kids through complex operations. This has got to be one of the most complex operations, and to have them come through it. When they're together and you're meeting them, you wonder, 'How are they ever going to do this?' But they did it. That was great. The kids look really good."
Read more: http://www.cnn.com/2016/11/08/health/conjoined-twins-surgical-team/index.html