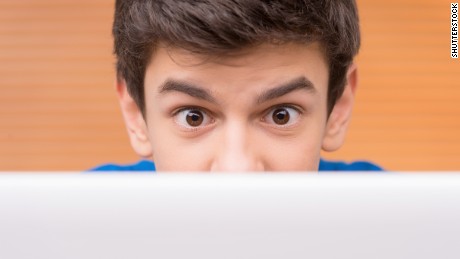 (CNN)What happened to Maddie, a mom of two boys, one afternoon has no doubt happened to countless other parents across the country.
Maddie's computer was out of juice, so she hopped on her 15-year-old son's laptop. She looked at the
history
of something she was working on and then, bam. There were links to 40 porn sites with topics too racy for me to print.
"I was freaking out," said Maddie, whose name has been changed to protect her privacy and her son's.
She immediately did something she has never done before during her nearly two decades as a parent: called her husband out of an extremely important client meeting.
"It's just that it's so different now than it was for me ... my dad leaving Penthouse on the coffee table in case I was interested," he said, according to Maddie. "You want to be careful that you are not just wildly clicking around, because there's scary stuff."
When parents confront their teens about their online porn viewing habits, it's crucial not to be accusatory, said Schroeder.
"It's really important to say, 'Lot of kids do this. You are not in trouble, but I want to talk with you,' " she said.
"I think it's OK to sit down with a child and say, 'I'm guessing that since you went on here you have some questions about sexuality. Is there anything you want to ask me?' "
If the child doesn't want to talk about that, which is entirely likely, Schroeder says, parents can leave out a book or a magazine such as
Sex, etc.
, which is made for teens and by teens.
One of the most crucial things that kids need to hear from parents is why they are freaking out about their online porn watching in the first place.
"Here's what I'm concerned about, and let me tell you why," Schroeder says parents can say. "The images you are seeing do not represent real life. They're not made for your age group. However, here's what there is, so it's not cutting you off completely."
Maddie says she still worries a little bit about what her son might watch, but she continues to keep tabs on him by checking his history, which he doesn't erase.
"There are parents like us who believe that it's natural for them to be curious but with parameters and caution."
Read more: http://www.cnn.com/2016/11/13/health/teens-online-porn-parenting-advice/index.html