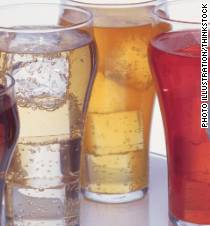 (CNN)On average, Americans consume more than 40 gallons of sugary drinks each year. In an effort to change what is apparently an everyday behavior for many people, public health researchers at the University of California, San Francisco took a bold step. They persuaded every vendor on campus to stop selling beverages with added sugar.
"It's a sales ban, which means the university has opted out of the business of selling and profiting off of sugar-sweetened beverages," said Laura Schmidt, a professor of health policy in the School of Medicine.
Schmidt spearheaded the voluntary sales ban, which took effect on July 1, 2015, yet required three years to get everybody on board. "It's a very, very big institution," she said, adding that she and her colleagues went "door to door" to meet with people.
Even if a sales ban has potential benefits, not everyone agrees with health policy wielded like a hammer.
In 2012, when New York City attempted to restrict restaurant sales of large sugary drinks, an
appeals court
ruled the regulation "arbitrary and capricious" adding the board of health "failed to act within the bounds of its lawfully delegated authority."
Schmidt emphasizes that the UCSF ban was voluntary. Every vendor on campus, as well as the chief financial officer, willingly agreed to go along with it, she said.
"Everyone was worried they'd lose money, but no one lost money," she said.
"America's leading beverage companies offer a wide variety of beverages -- including no- and low- calorie and smaller portion sizes -- to suit all tastes and lifestyles," said Lauren Kane, a spokeswoman for the organization. "These companies are always innovating to meet consumer preferences, and in fact, nearly half of the beverages they sell contain zero calories."
As far as the association is concerned, universities should feel free to choose the beverages they want to offer.
In fact, an observer casually walking around campus would see nothing unusual. Everything still looks pretty much the same, Schmidt said: "The shelves are filled with stuff. It's just stuff that isn't loaded with sugar."
"Our current food environment is rigged to make the unhealthy choice the easy choice," Schmidt said, adding that in many retail operations the placement and pricing of sugary beverages is intended to create more sales.
In the end, the sales ban is "not moralistic" or about trying to "constrain people," she said; it's really just that a health institution should not be profiting by selling unhealthy beverages. That said, she understands people's concerns: "We like our freedom. We want our individual choice. I don't want anyone to telling me what to eat. I'm an American."
By helping to "make the healthy choice the easy choice," Schmidt says she increased people's options.
Read more: http://www.cnn.com/2016/11/06/health/ucsf-sugar-sweetened-beverage-ban/index.html