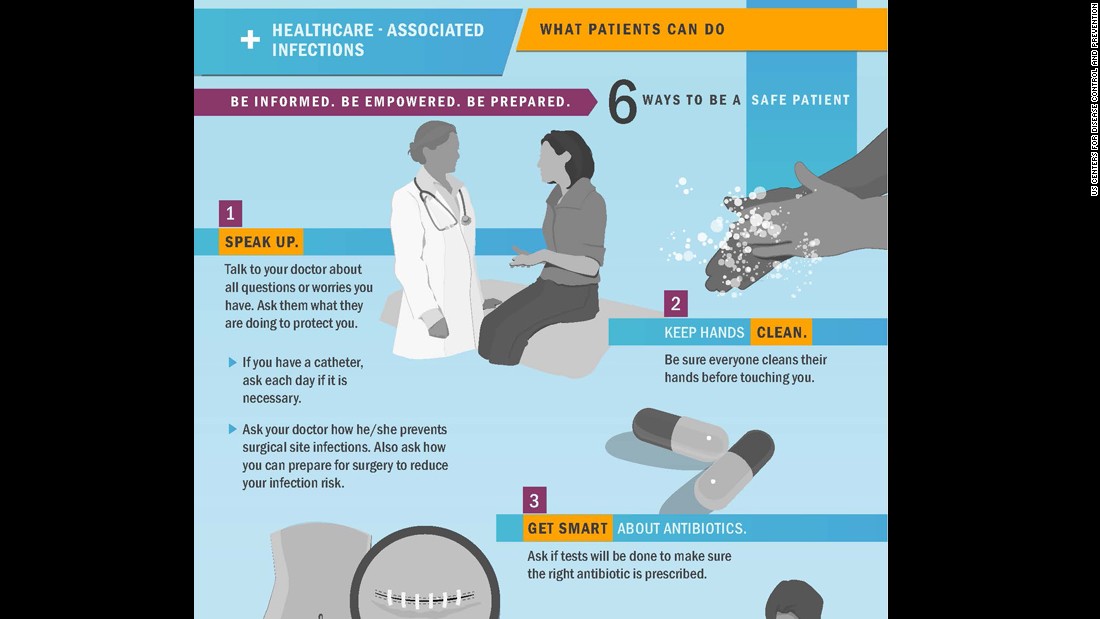 (CNN)Preparing to have surgery, many people wonder whether they are helpless to prevent a potentially deadly hospital-associated infection. A new report published Thursday by the World Health Organization, "The Global Guidelines for the Prevention of Surgical Site Infection," addresses these concerns.
Though the report targets surgical teams as its audience, patients might also benefit from
reading
these guidelines, written by a panel of 20 leading experts. Collected from dozens of scientific studies, the recommendations include 13 guidelines for preventing infections before surgery and 16 for during and after surgery.
New recommendations
Hospital- or health care-associated infections include blood, urinary tract, skin or surgical site infections that a person picks up while receiving treatment in a medical facility. A surgical site infection means any infection that occurs when bacteria enter a patient's body through an incision made during an operation.
In this "age of transparency and patient safety," Greene said it is important for us to ask questions of our health care providers and to consider going to another provider or facility if you feel uncomfortable with the answers.
"Quite honestly, consumers are being much more proactive. I've been doing this infection prevention for, probably, 30 years, and in the last five years, I've had more inquiries, because consumers want to know," Greene said.
Another suggestion: Patients can search online for hospital-acquired infection data. "
Hospital Compare
" on the Medicare website contains information about hospitals. Many states, usually through their departments of health, track health care-associated infection data as well. (Here are
New York State rates
, and here are
Kansas rates
.)
"You can go and look and see what the patterns and trends are in certain hospitals," Greene said, adding that you can then ask your surgeon about these rates.
Millions of surgeries, millions of infections
"Every year, over 240 million surgical procedures are performed globally," Kelley said. Although no global registry exists to track surgical site infections, health authorities estimate that each year, millions of patients around the world acquire infections during surgery.
In the United States, an estimated 722,000 health care-associated infections occurred in acute care hospitals during 2011, and about 75,000 patients died from such infections, according to the
Centers for Disease Control and Prevention
. One to three of every 100 patients will develop a surgical site infection, the CDC estimates.
The figures in other parts of the world are even more discouraging. In low- and middle-income countries, more than one out of every 10 patients becomes infected during surgery. In some countries, the estimate ranges as high as one-third of all patients, said Kelley. In Africa, 20% of cesarean sections lead to infections, which can endanger the lives of mothers and impact the lives of their babies and families.
Yet, Kelley stressed, a surgical site or hospital-acquired infection can happen anywhere, despite the quality and reputation of a health care system.
Currently, his own father is dealing with a chronic infection after surgery.
"My own mother contracted a surgical site infection after a liver transplant in one of the best New York hospitals," Kelley said. "She died from basically what was a preventable infection."
Read more: http://www.cnn.com/2016/11/02/health/who-surgical-site-infections/index.html