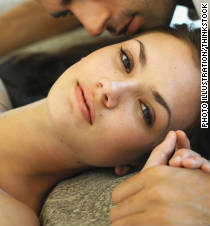 (CNN)All you have to do is watch nearly any depiction of female orgasm on screen to get an idea of how a woman is "supposed" to react during sex.
From "When Harry Met Sally" to "Sex and the City" to your basic porn film, women in the throes of passion aren't just shouting their ecstasy from the rooftops, they're moaning with pleasure. Loudly.
But is this just cinematic license, or is there really something to noisy sex?
And when it comes to noise, "partner benefit isn't the only piece of the puzzle," Mark said. "Perhaps making noise turns some women on and helps them experience pleasure."
Brisben concurred: "I think there are many women who need to be vocal to help themselves achieve orgasm. It helps move them and their orgasm along. There are certainly phases. As a woman gets into it, she may become extremely vocal and then move into a period of quiet as she is on the verge."
So do what feels right to you. Any other benefits are just a great bonus. And when it comes to "copulatory vocalization," perhaps men should take a lesson from the ladies.
"Women understand that moaning is a turn-on for guys, and many women ultimately enjoy it because they've made an effort to push a little beyond what comes naturally," said Logan Levkoff, a sex educator and author of a guide for men entitled
"How To Get Your Wife to Have Sex With You."
"But sexual self-esteem is a two-way street, and, for their part during sex, guys should aim for more than a single grunt at the end. It's not about faking or doing something you don't want to, but more about being sexually present and in sync with each other."
So let's all make some noise.
Read more: http://www.cnn.com/2016/11/13/health/women-moan-sex/index.html