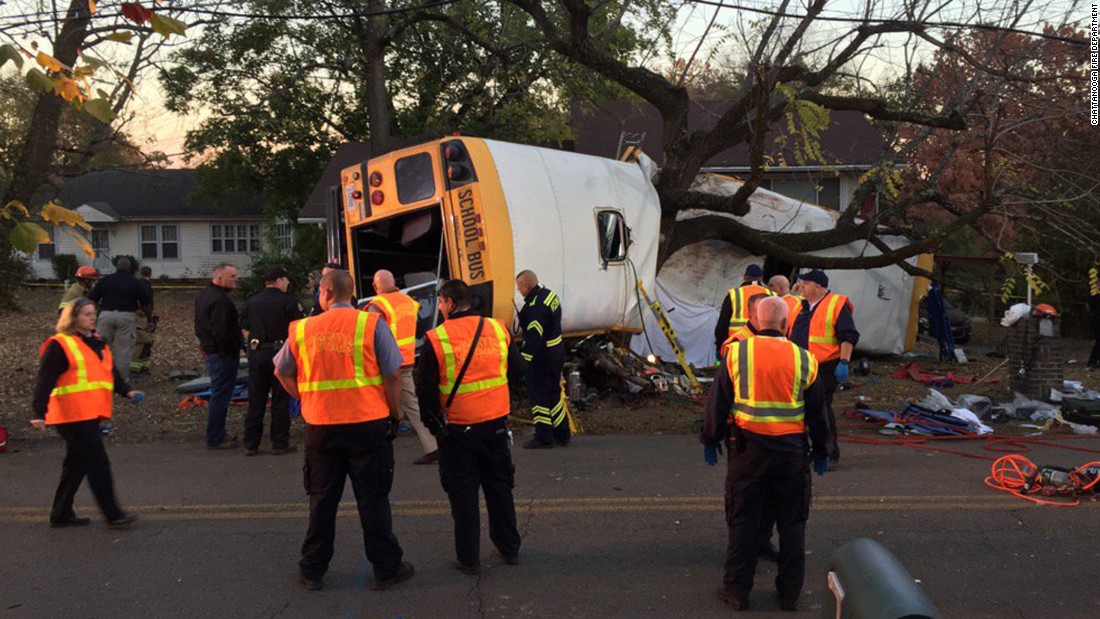 (CNN)Parents in Chattanooga, Tennessee, are mourning the deaths of at least five children whose lives were cut short when their school bus smashed into a tree and split apart on Monday.
As the investigation continues, many people across the country are left with questions — such as, could lives have been saved if the school bus were equipped with seat belts?
"Installing seat belts on buses is not free, and requiring their installation might mean reducing funding on other critical safety aspects, such as crossing guards for those children who do walk to school," Williams said.
"But this is a decision each community must make for their own children," he said. "There are very, very few deaths of children from school bus accidents, and there may be other expenditures that will be better investments to reduce risk."
A comparable — non-fatal — crash
In 2014, a
school bus in Anaheim, California
, slammed into a light pole and trees, splitting open on its left side, while carrying students home from El Rancho Charter Middle School — strikingly similar to this week's crash in Chattanooga.
In both incidents, the drivers were 24 years old, conditions were clear and dry, and the buses turned over on their sides.
However, the bus in the California crash was equipped with seat belts, and no one died.
The proper use of seat belts by student passengers in that crash reduced the severity of their injuries, the National Transportation Safety Board noted in its
highway accident brief report
(PDF).
But now, in the wake of the Chattanooga tragedy, Williams calls for a conversation that's much broader than the seat belt debate.
"School bus safety is critically important, and that is why we must study all possible avenues for making buses safer rather than limiting the conversation to seat belts," Williams said. "It's also important to focus on safe driving and ensuring that all drivers, particularly school bus drivers, are properly screened and trained."
Read more: http://www.cnn.com/2016/11/22/health/school-bus-crash-seat-belts/index.html