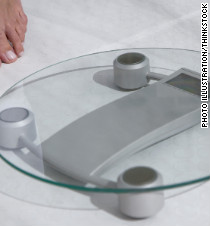 (CNN)A woman battling a severe eating disorder won the right to refuse forced feedings in a New Jersey court on Monday, according to her attorney.
Judge Paul Armstrong announced that the court recognized her right to "live free from
medical intervention
" in an
opinion delivered
in Morris County Superior Court, according to attorney Edward d'Alessandro.
The woman has had anorexic thoughts since the age of 5, according to court documents. With incidents dating as far back as her high school years, she has repeatedly refused to cooperate with treatment and has been hospitalized multiple times for her disorder.
The disorder, involving both eating restriction and bingeing and purging, left her weighing only 60 pounds when she was admitted to the hospital this summer.
The state argues that the woman is delusional, claiming that she "suffers from a mental disorder that, among other things, includes a distorted view of reality, and a false view of her own weight and prognosis."
In another area of its brief, the state writes as an example of her thinking that she believes any weight above 65 to 67 pounds is "obese." Additionally, her guardian testified that the woman did not want a feeding tube because "she did not want to get fat," according to court documents.
According to d'Alessandro, the woman will still receive medication, counseling and pastoral support through her palliative care.
"My client is very grateful that the court recognized her right to self-determination and is allowing her to live free from intervention," d'Alessandro said.
Read more: http://www.cnn.com/2016/11/23/health/nj-woman-eating-disorder-legal-case/index.html