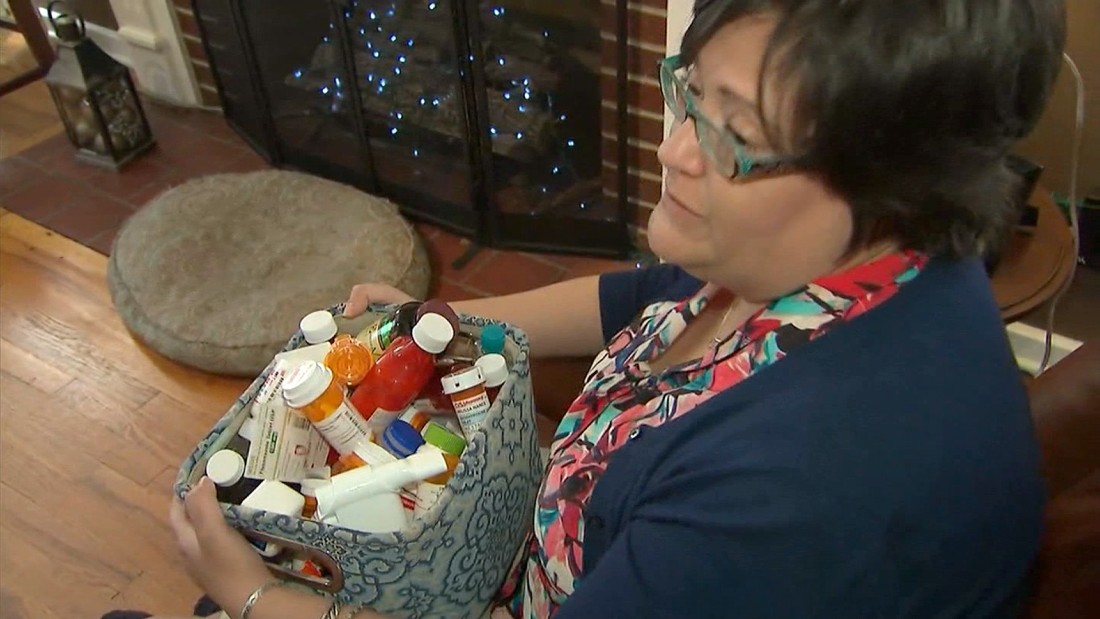 (CNN)Melissa Nance was born and raised in Tennessee. But the native of Blount County, near Knoxville, says she'll move if she has to.
"It's that or die," said Nance, 45. "So what else would you do?"
Nance has an incurable form of cancer called chronic lymphocytic leukemia. Since her diagnosis in 2015, she has gone through chemotherapy and survives on continual treatment. Her immune system is weak, and she often finds herself in the doctor's office with an infection. She keeps a basket full of prescriptions in her living room because "there are too many medications to fit in her bathroom cabinet."
To pay for all of that, Nance is insured by Humana through the Affordable Care Act's marketplace exchange. It's coverage she says she was grateful to have after years of being denied because of her pre-existing condition.
"It's a reminder of why I am doing this," Johnson said.
But in her 21 years running the Justice Center, this year has been like no other. Since President Donald Trump took office, Johnson said, her phones have been "melting down" with people worried about their health care options. More calls flooded the center in the aftermath of the Humana exit.
Everyone is concerned, she says: "These are folks that voted for Trump or didn't vote at all or voted for Clinton."
Tennessee is one of 19 states that chose not to expand Medicaid. Critics of that decision argue that's one reason why residents have few options for health care, and insurers have complained about the struggle to make money in the marketplace.
Humana's departure follows similar moves by competitors Blue Cross Blue Shield and United Healthcare in recent years.
"No businessperson can plan how to operate in this market. That's why leaders in Congress and the President need to give people a clear sense of 'This is what we're going to do,' " Johnson added.
Congress debates new plan
Trump recently used the Humana departure to show that Obamacare isn't working.
"Obamacare continues to fail. Humana to pull out in 2018. Will repeal, replace and save healthcare for ALL Americans," he tweeted.
In this conservative state, a majority of voters agree that change is needed.
"We're paying more in taxes, more in forced type of expenses, and we feel like we're getting less benefit out of it," said Kathryn Eaton, who owns a small business in the Knoxville area. "Can you actually ever get everyone to be covered or have health care? It's unrealistic. It's just not the real world."
The Republican Obamacare repeal bill would get rid of the ACA's individual mandate, which requires people to buy insurance. It would offer individuals refundable tax credits to purchase health insurance and would largely keep the protections Obamacare put in place for people with pre-existing conditions.
An insurance industry association says it's monitoring the bill working its way through Congress.
"We are reviewing the bill, with a commitment to a stable market that best ensures affordable, high-quality coverage for all Americans," said Kristine Grow of America's Health Insurance Plans.
Nance, who is still in treatment for her leukemia, isn't content. "Selfishly, I'm glad that pre-existing conditions or life time caps are covered, but I think we need a broader picture and look at what's best for a community as a whole."
And if an affordable insurance plan doesn't come to the marketplace? Nance said a move out of the state she loves could be her only option.
Read more: http://www.cnn.com/2017/03/13/health/tennessee-humana-obamacare-insurance/index.html