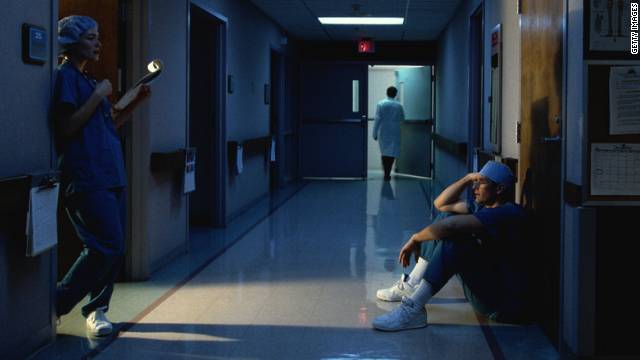 (CNN)Health experts warn that recent health care and immigration policies could worsen an ongoing doctor shortage, raising the question of why the federal government doesn't train more doctors in the first place.
Some
physicians' groups
continue to call for an increase in the federal funding of medical residency programs, the training that doctors get after medical school in specialties like surgery and pediatrics. These funds, which were capped by the 1997 Balanced Budget Act, are predominantly financed by Medicare in the vicinity of $10 billion.
"Everyone always thought that that cap was going to be lifted," said Dr. Janis Orlowski, chief health care officer of the Association of American Medical Colleges. "Twenty years later, that cap is in place."
To train residents at teaching hospitals, the federal government budgeted over
$10 billion of mandatory funds
in 2016, about 90% of which came from Medicare and the rest from Medicaid, according to the Congressional Budget Office. Additional voluntary funding may come from private sources and other government agencies, such as the Department of Veterans Affairs.
Orloski said teaching hospitals also contribute to cost of residents, especially when they exceed the number of residents allotted by the cap.
Medical school enrollment
jumped 27%
between 2002 and 2016, according to the association. But due to the cap, this did not result in 27% more doctors being trained in the US;instead, the number of international doctors entering US programs went down, and the number of US graduates who were not accepted went up, said Orlowski. Attempts at passing legislation to remove the cap have been unsuccessful.
"Our training programs are at least three giant steps behind … where health care seems to be moving to," said economist Gail Wilensky, co-chairwoman of the Institute of Medicine committee that released the report and former director of Medicare and Medicaid programs under President George H. W. Bush.
"There's obviously a lot of pressure to keep doing what you're doing in terms of federal funding," she said.
The report also called for increased transparency and accountability. Wilensky said that, while the report was being put together, several medical centers opened their financial records to the research team, but the data were insufficient to track the flow of funds and revenues of their residency programs.
Experts on both sides say they recognize the importance of increasing health care access through more efficient care, better allocation of resources and the use of technology. But there is no consensus on whether training more doctors is a part of that plan. The problem of access is interpreted on one side as partly a lack of physicians; on the other, it is purely a systemic problem — one caused by inefficiency and waste, poor distribution of resources, a lack of transparency and the accumulation of unnecessary care and costs.
"We disagree with the IOM report, and we agree with it," Orlowski said. "We agree … that we are not going to solve the physician shortage by just increasing the number of doctors."
But when it comes to the prospect of training more doctors, she said, there's more at stake than health care alone.
"If you take a look at teaching hospitals, they are the economic engines for many towns," she said.
"It's not just a cost, but it's truly an investment in the infrastructure of our cities and our states."
Read more: http://www.cnn.com/2017/03/13/health/train-more-doctors-residency/index.html