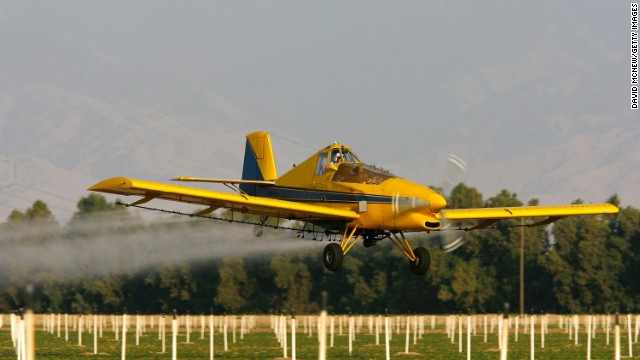 (CNN)Environmental Protection Agency Administrator Scott Pruitt denied a petition Wednesday requesting that the agency ban the use of the chlorpyrifos on all United States food crops. Chlorpyrifos, a product of Dow Agrosciences, is an insecticide proved effective against mosquitoes, cockroaches and fire ants, which has been registered for use in the US since 1965.
But some scientists and the US Department of Agriculture argue that chlorpyrifos is not harmful at exposure levels upheld by the EPA.
"Dow AgroSciences remains confident that authorized uses of chlorpyrifos products offer wide margins of protection for human health and safety," spokesman David Sousa said. "This is the right decision for farmers who, in about 100 countries, rely on the effectiveness of chlorpyrifos to protect more than 50 crops."
"Three big studies in 2011, and they all came up with the same findings that kids and moms who consume this pesticide are more at risk of giving birth to kids with ADHD and other neurological problems," she said.
"So there's a push and pull, as you know, between cheap alternatives for industry and public health concerns," she said, noting that often in hearings, there's an element of doubt: If we get rid of this, what are the economic implications?
"We're always looking at retrospectively what the data shows," she said. "Unfortunately, for example, take tobacco: It took 50, 60 years of research before policy catches up with what the science is showing," Anderko said.
Farber explained that the EPA needs to show that there's a reasonable certainty of no harm under certain conditions of use, such as the equipment worn by agricultural workers and the amount applied to crops.
"Under the law, if there isn't sufficient science to demonstrate safety, then EPA is obligated to ban the pesticide," Faber said. "That's why a number of similar pesticides, what are called organophosphate pesticides, are no longer in use in the US."
The EPA concluded that chlorpyrifos was not safe for use in residential settings, and the science has only gotten stronger, he said. Ultimately, the agency's risk assessment indicated that "chlorpyrifos posed significant risks to children, even at very low exposures," he added.
"There's simply no way EPA could reach any conclusion other than it should no longer be used on food crops," Faber said. "What's outrageous about Scott Pruitt's decision is that the science is so strong, so overwhelming, that chlorpyrifos causes neurological problems.
"If you can buy organic, that's great, but a lot of people can't, and we encourage parents to feed their kids fruits and vegetables, because it's healthy and reduces obesity, all that. But in the end, they're providing toxins to their kids that could hurt them," Anderko said. "And parents shouldn't have to worry about that."
The EPA did not respond to requests for comment.
Read more: http://www.cnn.com/2017/03/30/health/epa-chlorpyrifos-decision/index.html