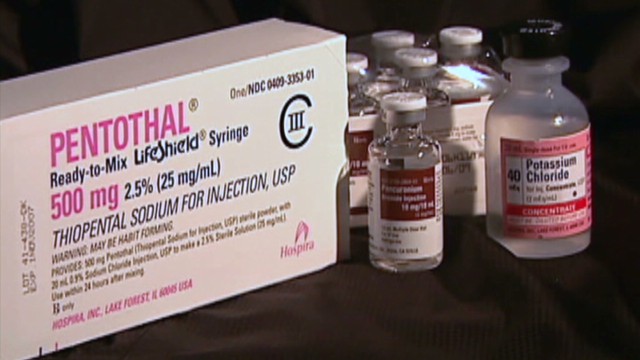 (CNN)Execution drugs delivered to the Texas Department of Criminal Justice and the Arizona Department of Corrections must be refused and either destroyed or exported within 90 days, according to court documents filed on Thursday.
The FDA made "a final decision, refusing admission of the detained drugs into the United States," said the agency in a document filed in federal court in Galveston, Texas.
"The FDA previously exercised enforcement discretion regarding the importation of sodium thiopental used for lethal injection," said Lyndsay Meyer, a spokeswoman for the FDA. But in 2012, a US District Court permanently ordered the agency to prohibit entry of (or release shipments of) foreign manufactured thiopental that is misbranded or unapproved, explained Meyer.
In response to the FDA action, Texas Department of Criminal Justice spokesman Jason Clark said it "fully complied with the steps necessary to lawfully import the shipment" and it is "exploring all options to remedy the unjustified seizure."
"It has taken almost two years for the Food and Drug Administration to reach a decision which we believe is flawed," said Clark.
The drugs for lethal injection are in short supply, in part because European drug manufacturers began banning exports to the US in 2010. US-based pharmaceuticals also stopped making the drugs in response to pressure from anti-execution activists.
Going forward, Clark said that the Texas Department of Criminal Justice "can currently carry out all scheduled executions. We use a single drug protocol -- pentobarbital." Pentobarbital is a barbiturate, frequently used by veterinarians to anesthetize animals.
Read more: http://www.cnn.com/2017/04/21/health/execution-drugs-fda/index.html