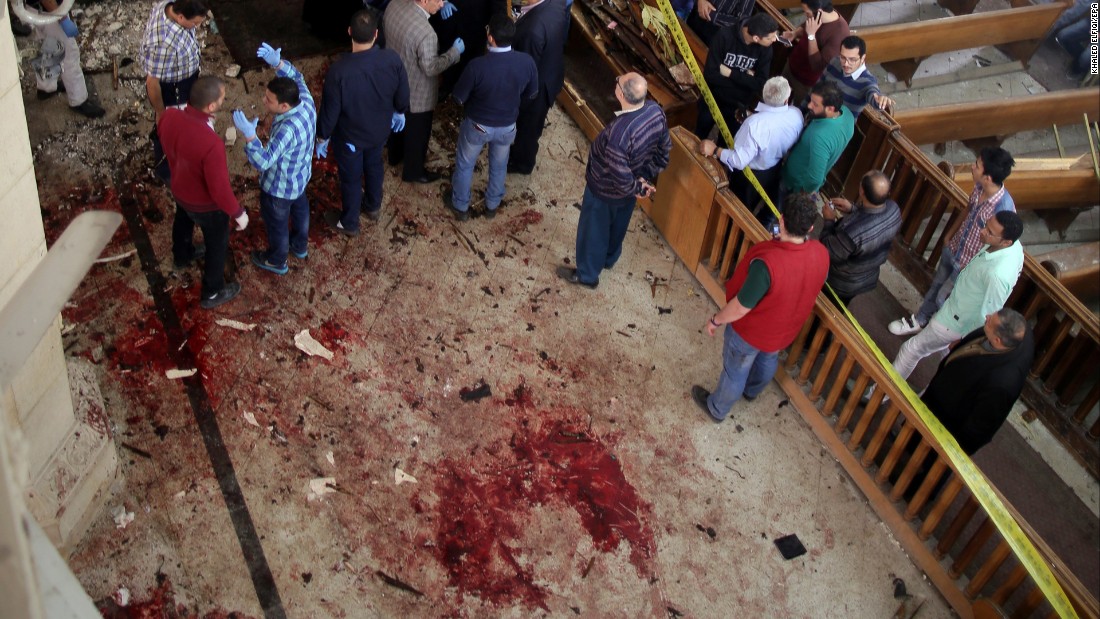 (CNN)ISIS claimed responsibility for deadly bombings at two Coptic churches in Egypt on Palm Sunday. The attacks targeted a vulnerable religious minority on one of the most important days on the Christian calendar.
The death toll rose to at least 47 early Monday, state media reported. At least 27 people were killed inside a church in the northern city of Tanta, and at least 16 were killed outside a church in Alexandria. It was not
immediately clear
at which location the other four were killed.
In a statement issued on the Telegram messaging platform and circulated by several ISIS supporters, the militant group identified the suicide bombers as Egyptian nationals. Egyptian authorities have not confirmed the bombers' nationalities.
ISIS warned of more attacks in its statement. "The Crusaders and their apostate followers must be aware that the bill between us and them is very large, and they will be paying it like a river of blood from their sons, if God is willing," the group said in Arabic.
A three-month state of emergency will be declared following the bombing, after legal and constitutional measures have been completed, Egyptian President Abdel Fattah el-Sisi said Sunday.
How the attacks unfolded
Egypt's response
The Egyptian President declared three days of nationwide mourning following the suicide bombings.
In response to the attack, the country will form a supreme council to counter terrorism and extremism, Sisi said on
state
television Sunday after an emergency meeting of the country's National Defense Council.
"We have to pay attention because of Egypt and Egypt's future. We know this is a big sacrifice but we are capable of facing it," he said.
"The attack will not undermine the resolve and true will of the Egyptian people to counter the forces of evil, but will only harden their determination to move forward on their trajectory to realize security, stability and comprehensive development," the President said in a statement.
Nile and Masriya TV, Egyptian state outlets, aired black banners in the upper left of their newscasts to signify mourning for the victims of both explosions.
'Bodies and body parts everywhere'
Fadi Sami heard about the Tanta bombing as he sat in the Alexandria cathedral on Sunday. The head of Egypt's Coptic Church, Pope Tawadros II, was leading Palm Sunday prayers.
Though no one announced the Tanta news, Sami said he could hear the sadness in the pope's voice. He left as the pope finished the sermon. Twenty minutes later, a suicide bomber blew himself up at the gate of the church.
"I came back and the area was covered in smoke. The stores around the church were all destroyed," he said. "There were bodies and body parts everywhere, outside and inside the gate. I saw a man put together what was left of his son in a bag."
Alexandria sits on the Mediterranean and has a large Christian population. Downtown is usually busy but was relatively quiet on Sunday because of the holiday. "Thank God it is a Sunday, and many shops are closed," Butter said.
David Saeed said he was sitting in the last row in the church when the bomb went off.
"We were just singing and suddenly in a blink of (an) eye, smoke, fire everywhere. I didn't realize what's happening until I saw blood and organs of our friends scattered over the ground," Saeed told CNN.
He said he tried to save some of the dying but couldn't. He helped to carry others to ambulances in front of the church, he said.
Hours later Saeed held a bloody T-shirt that belonged to a friend who was killed in the blast.
"I was shocked. But I'm not angry because ... we're used to it ( this kind of violence) here in Egypt," Saeed said.
"Every church in Egypt just prepares for this," he added. "Everyone knows that some time you will get bombed, you will be killed."
A persecuted minority
Coptic Christians make up about 10% of Egypt's population of 91 million. They base their theology on the teachings of the apostle Mark, who introduced Christianity to Egypt. Tanta is roughly 60 miles (96 kilometers) north of Cairo, in the Nile delta.
International condemnation
United Nations Secretary-General Antnio Guterres condemned the attacks and offered his sympathies to the victims and to the country in a statement through a spokesman.
Guterres "wishes a quick recovery to those injured and hopes that the perpetrators of this horrific terrorist act will be swiftly identified and brought to justice," said the spokesman, Stphane Dujarric.
The US State Department also issued a rebuke, calling the bombings "barbaric attacks on Christian places of worship."
"The United States will continue to support Egypt's security and stability in its efforts to defeat terrorism," said acting spokesperson Mark Toner.
The bombings came days after US
President Donald Trump welcomed Sisi
to Washington and expressed his support for Egypt. Among the topics of mutual concern were terrorism and ISIS. Trump condemned Sunday's attacks on Twitter and said he has "great confidence Sisi will handle the situation properly."
Sisi met Saturday with a US congressional delegation led by US Rep. Darrell Issa, the Egyptian government said. The meeting addressed Egypt's counterterrorism efforts and a strategy to fight terror while encouraging religious tolerance and acceptance of others.
On Sunday, President Trump called Sisi from Air Force One to offer his condolences, a senior administration official told CNN.
Archbishop of Canterbury Justin Welby called the attacks "evil" and urged people to pray for the victims. Russia's President Vladimir Putin condemned the attacks and offered his condolences to Sisi, according to Russia's state-run Tass.
Read more: http://www.cnn.com/2017/04/09/middleeast/egypt-church-explosion/index.html