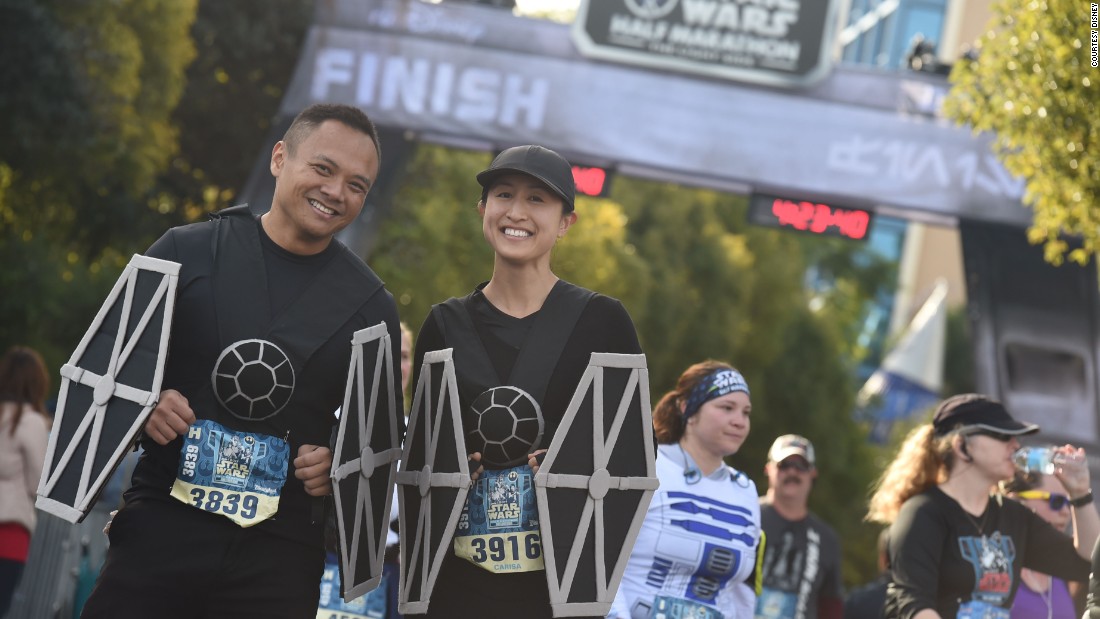 Anaheim, California (CNN)If there is an advantage that the "Star Wars" half-marathon has over most races of that distance, it may be that it has more fun per mile than most other 13.1-milers. It also may have an invisible, ancient energy that binds all the runners all together like an awakening "Force."
This episode of "Fit Nation" will air on May 20 between 1 and 6 p.m. ET, and on May 21 between 5 and 6 p.m. ET.
The fun of all Disney-branded races begins with location, as the course snakes through the famous theme parks. Then, pick your theme: general Disney, Princesses, Marvel superheroes, Tinkerbell, food and wine, and "Star Wars." I suggested to organizers that an Indiana Jones theme should be next.
Most Disney runners don costumes (good guys and bad, which is probably why they skipped Indiana Jones), like a fit-focused Comic-Con. As if dressing as a favorite character weren't enough, the "Star Wars" races add an inspiring John Williams score that floats throughout the theme parks. And there are professional character cameos and performances by Disney cast members, as they call themselves.
It's pure joy for thousands of fans of both running and the famous myth-steeped space opera.
If that sounds like more entertainment than workout, note that it is still a legitimate half-marathon. Finish times count toward qualifying for traditional city marathons, and winners for their divisions get free entry to next year's race. Every finisher gets a medal. There are, sadly, no prizes for costumes, no matter how deserved.
But most runners don't seem so concerned with finish times that they won't sacrifice minutes to get their picture taken with C-3PO or pose riding a landspeeder.
The
runDisney program
has a history of successful and fun races, dating to long before the company took ownership of the "Star Wars" franchise in 2012.
The Magic Kingdom hosted its first marathon in 1994, initiated in part due to its ownership of the ESPN sports network. It was a big hit, and the marathon has run ever since. Now, there are nine races year-round at theme parks in Paris; Anaheim, California; and Orlando, Florida. There are smaller races in the Bahamas associated with Disney Cruises and even a medal you can win by running 5Ks in your own neighborhood.
Within the "Star Wars" races, there are Dark and Light Side versions to cater to those who might prefer to run in an Ewok outfit versus a Boba Fett. And like other full race weekend events, the Light Side half-marathon can be paired with a 10K in the same weekend, which earns finishers another medal for completing the "Rebel Challenge."
My love of "Star Wars" runs deep, and when I first heard about the race, I knew that if I had a chance of completing one long race, it would be one infused with the Force.
I signed up for what was my first race for any distance beyond a 5K. And in January, I joined a whopping 16,000 other fan-runners at Disneyland in California for the 2017 Light Side half-marathon.
Start on the dark side, finish in the light
Runners lined up just outside the iconic amusement park in the dark of 5:30 a.m., starting through a gate featuring Tatooinian architecture. The announcers geeked out over the costumes in the crowd, indulging in "Star Wars" trivia and puns as runners left in waves, quickly heading into Disney Adventure Park and then to fabled Disneyland itself.
Despite the darkness, the course was well-lighted and -directed. And running through both amusement parks in the dark is quite beautiful. It's a giddy tour through the lit-up canyons and neon signs of Cars Land (a re-creation from the film "Cars"), the dancing fountains in the World of Color lagoon, the bright glow of "It's a Small World" and the iconic Cinderella's Castle. It's, well, magic.
For the "Star Wars" half, you may want to put some thought into what you'll wear, assuming you have a favorite character or just want to get into the spirit.
There are rules to consider: no full Jedi robes, nor face masks or toy weapons such as blasters and lightsabers (though some managed to sneak in the latter). And then there are the practicalities of being able to run in your costume.
Many runners purchase "Star Wars"-branded running gear with identifiable markings that evoke droids, Jedi and so on. Many more wore t-shirts or running shirts with Star Wars puns or classic movie images.
Like many, I ran as my favorite character. I found a lightweight white non-running shirt and a movie-accurate black vest on top. I wore regular running pants but added red duct tape piping along the sides, which fell off by about mile seven. I also wore a novelty gun belt and holster, which would later chafe my waist. My good toy blaster at my side was confiscated by Vader -- I mean security.
I should have read the rules more carefully. Then again, Solo isn't one to follow rules.
Fun and adventure: A Jedi craves not these things
The physical benefits of running are manifold. There is abundant research showing that a regular routine can help prevent obesity, type 2 diabetes, heart disease, high blood pressure and stroke. It burns fat and strengthens muscles, including the one between your ears. Running can reduce stress and
release brain reward pathways
in a similar way to (less healthy) drugs.
Compared with most other sports, the risk of injury in running is low, especially with proper stretching and training schedules designed not to overextend yourself. The runDisney site is just one source for
tips and training programs
preparing you for race day.
As competitive racing sports go, running is by far the most popular, with more than 17 million finishers reported across all road race distances in the US,
according to Running USA
. RunDisney alone hosts 260,000 runners a year at its events. And the half-marathon is the the second-most popular distance in terms of finishers, behind the 5K (which has a lot more races). In 2015, there were nearly 2 million half-marathon finishers, compared with roughly half a million marathoners.
Running a half-marathon is not just a waystation -- like, say, Mos Eisley -- on the way to the more challenging space systems of marathons. There is evidence that a marathon puts too much strain on the body and that 13.1 miles is a better length in a fitness-to-burden ratio.
But physical benefits of training and running 13.1 miles aside, what is more difficult to quantify is the pure joy that comes from tapping into youthful nostalgia shared by "Star Wars" fans around the world. That puts this half-marathon light-years ahead of its competitors.
And for those who plan to run: May the course be with you.
Read more: http://www.cnn.com/2017/05/19/health/star-wars-half-marathon-fit-nation/index.html