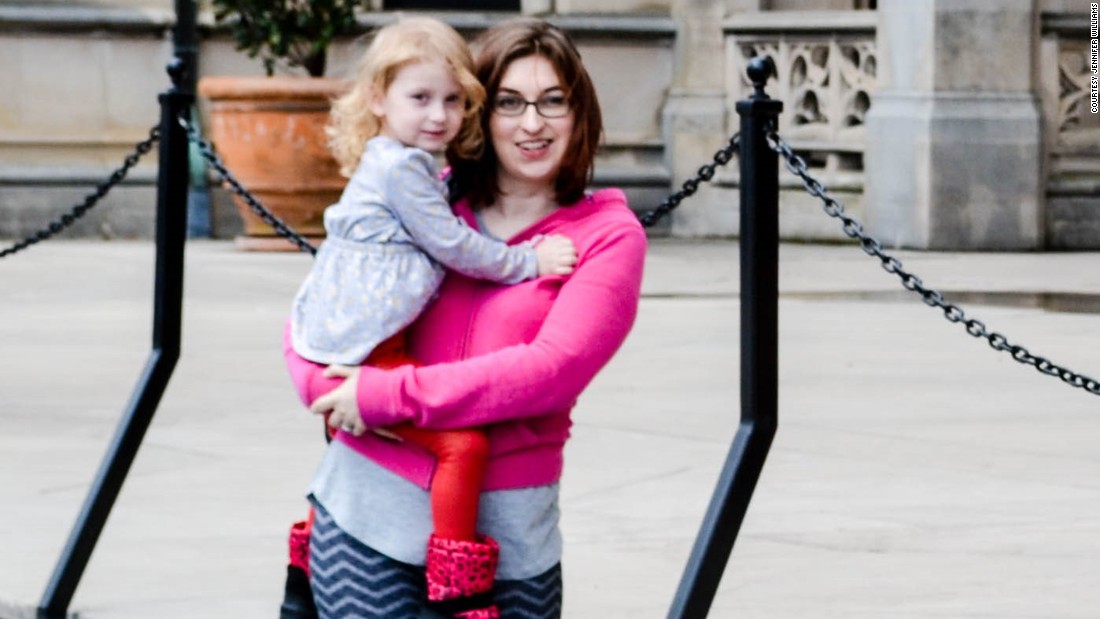 (CNN)Typically, Jennifer Williams' outings with her 3-year-old involve playing in the yard or at a friend's house. On Monday, she instead took her child to see their congressman.
Anderson's live video begins as a uniformed officer is mid-sentence: "single parent like you." As he walks away, she explains that she can't "apparently be in McHenry's office and voice my opinions."
McHenry, whose office did not respond to calls for comment, has said on his website that he voted for the health care bill to repeal "this broken law," Obamacare, and to start to replace it "with a healthcare system that actually works."
In Anderson's case, it is her daughter, Loretta, who has a pre-existing condition.
As Anderson walks out of the building and buckles her 4-year-old into her car seat, she explains on Facebook Live that before Obamacare, her family had been turned down for insurance. She says through tears that she feels McHenry has made the "child uninsurable for something that's not her fault."
Loretta has a liver problem requiring stem cell treatments, according to WCCB, and it requires expensive ongoing treatment. Even with insurance, Anderson spends $12,000 out of pocket each year on her child's medication, plus co-pays and other treatment costs. If the Republican bill were to become law, the price of her health care could go up dramatically.
"If Loretta doesn't have her medication, she will die," Anderson explains on Facebook. The family is already making a large sacrifice to pay the bills: Her husband, who isin the military, volunteered for another deployment "to go to war so our kids could live," she says. "It's not how this country should be. That's not right."
Since the incident, Anderson has used social media to encourage others to speak with their elected officials. On Monday, Williams answered the call.
As in Anderson's case, Williams feels that her representative's support for the Republican health care bill is a real threat to her family. Obamacare "saved her life," she says.
The 33-year-old sees several specialists for a congenital heart condition. She also has a rare disease, Ehlers-Danlos syndrome, that affects her cartilage. Before the Affordable Care Act, insurance companies refused to cover her, and she maxed out her credit cards to pay for her care. When Obamacare prohibited the companies from discriminating against people with pre-existing conditions, she finally got coverage.
"My husband called the help number, and we spent days working with the exchange to find a plan that included my doctors, but they did it," Williams said. "We were determined to make it work."
Although Williams' family now gets coverage through her husband's IT job, she knows they may have to buy a policy on the market in the future, and she doesn't like her odds with the Republican bill.
Williams says she has read the bill, all its amendments and subsequent analysis of the legislation, and feels that it doesn't cover her or her family. Her daughter, Freyja, has juvenile arthritis, and a stepdaughter has ADHD.
"You can see why I feel very attacked by my representative's decision here," she said.
She explained some of her family's health challenges on her own Facebook Live broadcast. "I will die -- this is not hyperbole -- if I do not have affordable health insurance," she tells McHenry's staffer. Pointing the camera toward her daughter, she says, "She will end up crippled and in a wheelchair, and the reason I am filming this is, I am hoping it will get around to the congressman and he will see there is a human face here."
The staffer stands listening to Williams, not saying much. She becomes animated when she turns to look at Freyja, who sits fidgeting in a chair, clasping a bright yellow stuffed Pikachu to her chest as she listens to her mom.
When Williams shut the camera off, she said, the staffer offered to take her contact information.
"Now, they have my information at every one of his offices, but still there has been no meeting," she said. "You can see we were tolerated, and that's about it."
Despite the lack of contact, she still feels the effort to talk to McHenry was worth it. "My kids deserve a better world, and even if I don't get a response, at least I know I tried whatever I could and I fought for them."
One person she has talked to is Anderson. The women are planning a playdate for their children. Her congressman may never meet with her, Williams said, "but at least maybe something good could come out of this."
Read more: http://www.cnn.com/2017/05/10/health/health-care-angry-moms-facebook-live/index.html