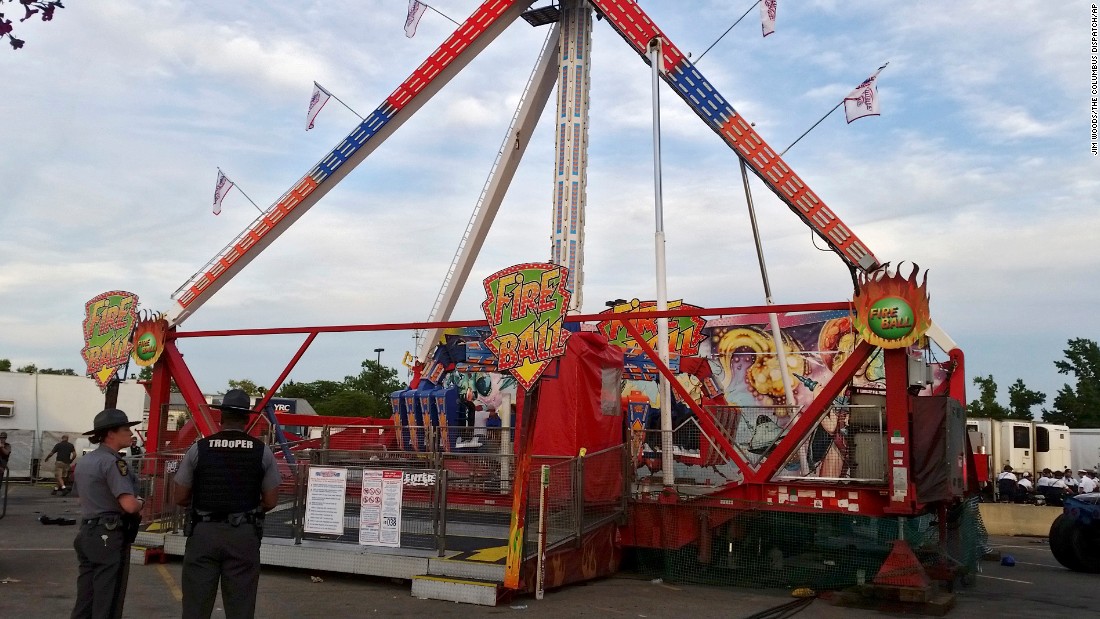 (CNN)Emergency rooms saw an estimated 30,000 injuries linked to amusement parks in 2016, according to the US Consumer Product Safety Commission. But experts warn that data about amusement park safety is limited, and regulations are inconsistent.
This week, one person was killed and seven more were injured after a ride malfunctioned at the Ohio State Fair in Columbus. On Wednesday, the opening day of the fair, a piece of the Fire Ball ride broke apart mid-air. All seven people injured were taken to area hospitals for treatment.
In 2016, a
10-year-old boy
was killed on a water slide in Kansas.
Three girls
were also injured in 2016 at a fair in Tennessee after falling from a Ferris wheel.
A man died
in Ohio in 2015 after jumping over a fence in a restricted area and being struck by a roller coaster. A similar incident happened at a Georgia Six Flags park in 2008. And in 2007, a teenager lost both of her feet after a ride malfunction at a Kentucky Six Flags park.
Lack of data on park injuries and deaths
In a statement sent to CNN, the
International Association for Amusement Parks
said that while approximately 335 million people visit amusement parks in the United States each year, the likelihood of sustaining a serious injury at an amusement park that would lead to an overnight stay at a hospital is one in 16 million.
The amusement park association conducts an
annual safety survey
, the most recent of which was published in 2016. Of the parks from which the association collected data, it estimated that in 2015 there were 1,508 ride-related injuries among park attendees who went on rides. That's an increase of 32% since 2014, when there were 1,146 ride-related injuries. No data on fatalities were reported.
However, the International Association for Amusement Parks only collects safety data on fixed-site amusement parks -- locations where the rides are permanent fixtures -- and not on amusement parks that move from location to location. Those mobile amusement parks include carnival and state fairs, such as the one in Ohio.
"It's been looked at about three or four times over the course of two days," said Michael Vartorella, chief ride inspector for Ohio's Division of Amusement Ride Safety. He said that on Wednesday, "it was inspected at a couple of different stages and it was signed off."
Walter Reiss, an independent amusement ride safety inspector, told HLN's Michaela Pereira on Friday that once mobile rides are assembled at their location, they usually have only a visual inspection. He also said that rides may be assessed for damages using non-destructive testing, but the frequency and the parts inspected are usually dictated by the manufacturer.
"Generally, when you're inspecting on-site when it's been re-erected after just being moved, you're doing mainly a visual inspection," said Reiss. "You can require the non-destructive testing if you see something that's suspect. But generally, the non-destructive testing through using the X-ray, the mag-particle, the ultrasound, that's gonna be something you're going to do only when it's disassembled in a shop somewhere."
Investigators from the Ohio State Highway Patrol and the Consumer Product Safety Commission are currently looking into why the Fire Ball malfunctioned.
In a statement from
Amusements of America
, the Fire Ball ride's operator, the organization said it is cooperating with the investigation: "Our family-owned company is committed to working with state and local experts in trying to determine the cause of this tragic accident."
Best practices for amusement park safety
If people choose to ride amusement park rides, there are
several guidelines
to keep in mind for safety, especially for children.
Always follow all posted height, age, weight and health restrictions.
Make sure to follow any special seating order and/or loading instructions.
Always use safety equipment such as seat belts and safety bars.
Make sure children keep hands and feet inside the ride at all times.
Know your child. If you don't think he/she will be able to follow the rules, keep him/her off the ride.
Trust your instincts. If you are worried about the safety of the ride, choose a different activity.
Avoid "mall rides" if they are over a hard, unpadded surface or if they don't have a child restraint, such as a seat belt.
"Many parents either assume that the rides at amusement parks are safe and that they're being inspected, or they don't even stop to think about how safe they might be," said Mehan. "So we want parents to learn in their state how rides are being inspected, by whom, and how often, so they can make the decision for themselves whether or not they want to take that risk before they go on the ride."
Read more: http://www.cnn.com/2017/07/28/health/amusement-park-safety-data-2016/index.html