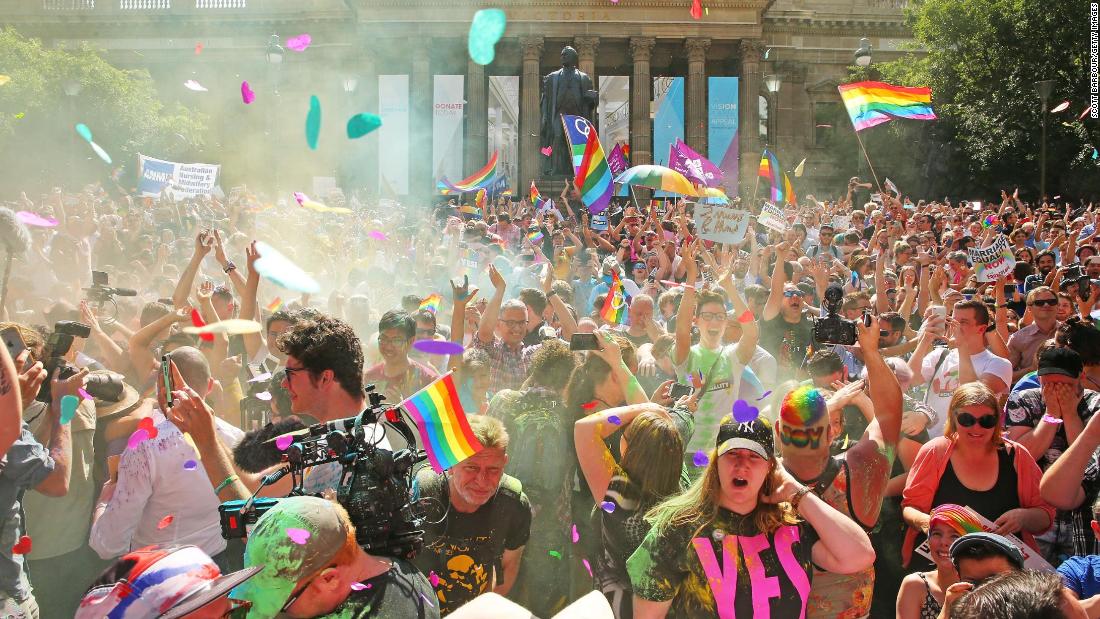 (CNN)Earlier this month, Australia released the long-awaited results of its national postal survey on marriage equality, with almost 62% of the public -- and a majority in every one of Australia's states and territories -- voting "Yes" on the question of extending same-sex marriage rights. Lawmakers have pledged to swiftly codify that result into law, with Sen. Dean Smith introducing a bill to legalize marriage equality almost immediately after the results were announced.
Yet as proponents prepare legislation to enshrine marriage equality into law, opponents are already pushing exemptions that would allow those who disagree with marriage equality to refuse to recognize same-sex couples. The "No" camp
has already floated proposals
to allow government officials to opt out of performing same-sex marriages and exempt business owners and service providers from nondiscrimination laws if they do not want to serve same-sex couples.
This strategy is popular among opponents to same-sex marriage around the globe, especially as more people in more countries embrace marriage equality. Earlier this month, former Australian Prime Minister and current Member of Parliament Tony Abbott spoke to the Alliance Defending Freedom, a US-based group that asserts religious freedom but is also known for aggressively fighting against LGBT rights,
including same-sex marriage
.
In 2014,
the Baltimore Sun reported
that ADF defended the discredited "conversion therapies" for gay minors. At the gathering, Abbott warned the crowd that the drive toward marriage equality threatened religious freedom and would be used "oppressively" against people who opposed it.
Abbott is not the only public official traveling abroad to promote this argument. Many Americans remember Kim Davis, the clerk in a rural Kentucky county who, after the US Supreme Court gave same-sex couples the right to marry, refused to issue them marriage licenses, citing her religious objections.
Rather than protecting human rights, sweeping religious exemptions function in practice as a license to discriminate. They elevate personal prejudice above laws that aim to protect everyone from discrimination.
In the process, they not only jeopardize the rights of LGBT people, but the principle that underlies nondiscrimination law more generally -- that people should not be turned away or treated unfairly because of who they are.
But there is another reason these campaigns are so worrying. Abbott and Davis haven't only used faith-based arguments to justify limited exemptions to marriage equality. Instead, they've cited them in campaigns to deny same-sex couples access to marriage across the board.
Neither Australia nor Romania is considering laws that would compel churches to marry same-sex couples. To the contrary, the marriage equality bill in Australia specifies that religious ministers cannot be compelled to marry same-sex couples.
If the United States is any indication, proponents of religious exemptions are unlikely to stop at marriage. Since same-sex couples won the right to marry,
many states have enacted laws
that permit
adoption and foster care providers
, counselors, landlords and others to turn LGBT people away, citing religious beliefs. When the law excuses discrimination in one aspect of daily life, that "exception" can end up swallowing the rule.
As figures like Abbott and Davis and conservative groups like Liberty Counsel globalize these campaigns, it is important to remember that there is never a human rights argument in favor of discrimination. The diversity of faiths and beliefs should be celebrated, and lawmakers around the globe have experimented with inventive strategies to accommodate religion under the law.
But when religion becomes a blunt tool to deny rights to LGBT people, women, racial and religious minorities, and other marginalized groups, those who care about human rights have good reason to become concerned.
Read more: http://edition.cnn.com/