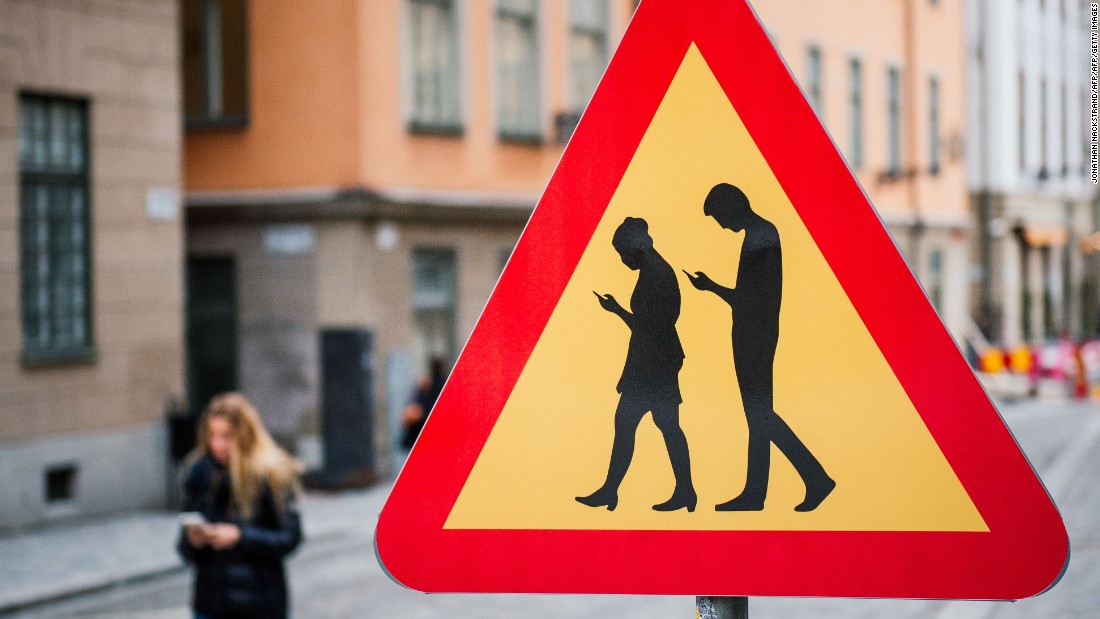 (CNN)You may be one of the growing number of Americans (or global citizens) who has a bit of nomophobia.
"Nomophobia?" you mutter as you read this on your ever-present smartphone. "Of course not."
"It might be a good idea to be conscious of that," Yildirim said, "but we are only concerned if it starts to interfere with your daily life."
Did you score between 100 and 200? You're probably struggling with severe anxiety when you can't access your cell phone, he said.
"This might negatively affect your social life and relationships with friends and family," Yildirim said. "There are studies that show those who score high on the test tend to avoid face-to-face interactions, have high levels of social anxiety and maybe even depression.
"It might affect your ability to work or study, because you want to be connected to your smartphone all the time," he added. "So if any of this applies to you, then it's time to start looking at your behavior and level of anxiety."
Obviously, there are some serious ramifications to having a cell phone habit. According to the US Centers for Disease Control and Prevention, mobile phone use is partially to blame for the distracted driving that kills an estimated nine people each day and injures more than 1,000.
Researchers from Korea University in Seoul used brain imaging to study the brains of 19 teenage boys who were diagnosed with internet or smartphone addiction. Compared with 19 teenagers who were not addicted, the brains of the addicted boys had significantly higher levels of GABA, a neurotransmitter in the cortex that inhibits neurons, than levels of glutamate-glutamine, a neurotransmitter that energizes brain signals.
"GABA slows down the neurons," explained Yildirim, who was not involved in the Korean study. "That results in poorer attention and control, which you don't want to have, because you want to stay focused. So that means you are more vulnerable to distractions."
Yildirim agreed that the preliminary findings were consistent with prior research.
Addicted teenagers in the study also had significantly higher scores in anxiety, depression and levels of insomnia and impulsivity, said Dr. Hyung Suk Seo, professor of neuroradiology at Korea University, who led the study.
The good news is that when 12 of the addicted teens were given nine weeks of cognitive behavioral therapy, the levels of GABA to glutamate-glutamine normalized.
"This is a common finding in the literature," Yildirim said. "There are studies that have looked at how cognitive behavioral therapy can improve attention control and executive functioning."
"To me, the most interesting aspect of the study is that they were able to see a correction of the imbalance after cognitive behavior therapy intervention," Wintermark said. "What I would like to see is more research on whether the symptoms of addiction are also corrected."
If you, or a loved one, seems to have the symptoms of smart device or internet addiction, experts have some suggestions in addition to mindfulness training. First, turn off your phone at certain times of the day, such as in meetings, having dinner, playing with your kids, and of course, driving. Remove social media apps, like Facebook and Twitter from your phone, and only check-in from your laptop. Try to wean yourself to 15 minute intervals at set times of the day when it won't affect work or family life. Don't bring your cell phone and it's harmful blue light to bed; use an old fashioned alarm to wake you. And last, try to replace your smart device time with healthier activities such as meditating or actually interacting with real people.
Read more: http://edition.cnn.com/